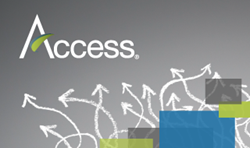 Trying to get multiple signatures on a form used to take days or even weeks, but now you can do it in minutes.
Sulphur Springs, Texas (PRWEB) November 02, 2016
A year after Robert Mims joined Montrose Memorial Hospital (MMH) as Director of Materials Management, the hospital's IT Director told him that the hospital had purchased Access's web-based forms solution, but had yet to deploy it. He asked Mims if he could find some paper-based forms processes that could be replaced by fast, electronic workflows. It didn't take Mims long to find multiple use case possibilities and he prioritized Purchase Order supply ordering for his department.
MMH has a process built into its IT system for ordering repetitive supplies, but requesting one offs was a complex, slow, paper-centric process that Mims said, "Required a lot of emailing back and forth and multiple follow-ups for each item." So he created an electronic form that enables his colleagues to quickly request products, conference seats, travel and more online, with a one-time request. Another related process involved paying for items with a company credit card. Previously, Mims took time at the end of each month to see who had used the card and reconcile the purchases.
"There was no real approval process before we started using the Access system, but now we've fixed the process and there's a lot less legwork at the end of the month," Mims said. "Everyone loves the new way of doing it."
Next, Mims turned his attention to MMH's capital equipment request process, which he said "was very cumbersome." Each request above a certain amount went to the board members, who signed for approval if they deemed the expense necessary. The trouble was that if one of the approvers was out of the office, they could sometimes not see the form on their desk.
This meant it didn't get the final approval signature/s, and the designated money wasn't spent. Once the signatures had been collected, the purchase was often completed the following month or quarter, impacting the budget and cash flow. The Access system has changed all this for the better.
"Instead of a capital request form being forgotten on a desk, we get emails saying we need to provide our signatures," Mims said. "As the Access system provides the forms via the web, we can issue our approval from home or anywhere else. This means we're spending money in the same quarter it's designated for purchases, which helps keep our cash flow regular."
"Now that we can open up, fill in and submit forms via the web, we've got rid of a lot of paper," added MMH Systems Administrator Brian Quon. "As the initiator of a workflow you just fill in the form, sign and it click submit, and you know it's going to end up with the right person for a quick approval. Trying to get multiple signatures on a form used to take days or even weeks, but now you can do it in minutes."
One of the factors that has made MMH's e-forms projects successful is the relationships the hospital's staff has developed with Access's support team.
"With any software purchase, there are always similar products offered by several companies," Quon said. "The difference comes down to service, and Access's support is first class."
MMH isn't standing pat with its web-based forms projects, but is planning to extend Access's system to other departments across the hospital. Mims is already looking to take the contract flow process electronic, and is working with the accounting director to transform check approval with an online form.
"We're looking at several other areas that we believe can benefit from e-forms," Quon said. "The Access solution is so dynamic, simple to use and easy to manage that I'm sure there are many other processes that we can improve with it."
About Access
For more than 15 years, Access has developed electronic forms management solutions that eliminate the unnecessary expense, risk and inefficiency of paper forms. Our 100 percent paperless technology enables organizations in any industry to capture, manage, sign and share forms data without printing or scanning. Learn more at http://www.accessefm.com and help Access's partner The Last Well bring clean water and the Gospel to Liberia at http://thelastwell.org
About Montrose Memorial Hospital
Montrose Memorial Hospital is a 501(c)3 nonprofit healthcare system serving Montrose, San Miguel, Ouray, Gunnison, Delta, Hinsdale and San Juan counties. The health system offers a 75-bed hospital and an extensive range of inpatient & outpatient health care services, including cardiology, oncology, minimally invasive surgery, laboratory, medical imaging/radiology, Mountain View Therapy, Level III Trauma Center and the family birthing center. The health system partners with regional providers on joint ventures to meet local healthcare needs, including CareFlight air ambulance service, San Juan Cancer Center and Black Canyon Surgical Center.