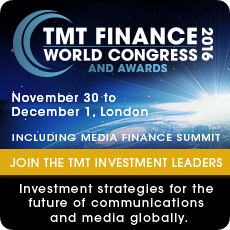 London, UK (PRWEB UK) 1 November 2016
TMT Finance today announced that a senior executive in Accenture's Communications, Media & Technology operating group will give a keynote speech at the TMT Finance World Congress 2016 in London on November 30th. The keynote will highlight the increasing importance of fixed internet infrastructure, particularly local fibre, data centre, hosting and cloud assets, for European Communications Service Providers (CSPs).
Artur Meinzolt, a managing director for Communications, Media & Technology, Accenture Strategy, will discuss a range of implications on global telecom investment strategies in his keynote presentation. The Congress, which gathers global telecom, media and tech leaders with key players from the financial and investment community over two days, features over 100 speakers and focuses on investment strategy and mergers and acquisitions.
"The local network will become much more important as we move towards the 5G wireless technology needed to support virtual and augmented reality services," said Meinzolt. "Because large international CSPs will need to strengthen access to local networks, investments and acquisitions are likely to be focused on local Metronet, cable and fixed-line operators as well as datacentre capabilities. There are many regional and national variations across Europe, with smaller metro cable companies in some countries, and owning local real estate will certainly increase in importance. We are also likely to see competition increase as new entrants try to challenge the incumbents."
The TMT European Leaders Panel, chaired by Accenture, will take place immediately after Meinzolt's speech featuring key leaders from Telia, Liberty Global, Altice Group, Iliad and KPN.
Other companies participating in the event, which is organised by TMT Finance, include Vodafone, Axiata, VimpelCom, Etisalat, Telstra, PTCL Group, Channel 4, MTG, RTL, EE, Numericable SFR, IHS Towers, Cellnex, INWIT, Digital Bridge, Six Degrees Group, O3B Networks, CityFibre, Next Generation Data, Ashurst, ABRY Partners, Accenture, EY, Goldman Sachs, Citi, IFC World Bank, European Investment Bank, Societe Generale, UBS and Nomura.
For more information go to http://www.tmtfinance.com/world
About TMT Finance
TMT Finance is a leading provider of global news and events to senior executives in the Telecom, Media, Technology sector, Investment Bankers, Investors and Professional Advisers globally.
http://www.tmtfinance.com