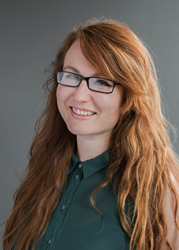 I'm happy to be part of such a close-knit and creative team.
Lexington, KY (PRWEB) November 03, 2016
Ms. Izzy Cable has joined the Shatterbox as graphic designer and creative team member.
"Izzy is a tremendous asset to the growing team at Shatterbox. She will work alongside our talented and experienced art director Adam Brown to provide complete creative solutions for our clients. Her attention to detail, quality-driven work ethic, and robust imagination will make valuable contributions to some of Shatterbox's most high profile projects", said Shatterbox CEO Russ Hensley.
"Izzy's aesthetic belies her experience. You look at the work she's creating and marvel at the sophistication evident in every design," says Adam Brown, Art Director. "When Shatterbox first came across her portfolio, we all agreed, it was an enviable collection of work—one that any of us would have been proud to present at the beginning of our careers."
lzzy Cable, a native of Louisville KY, is a recent graduate of the University of Louisville's selective Communication Art & Design Bachelor of Fine Arts program. A versatile graphic designer, she has been recognized by AIGA for her work in both web design and packaging. Her portfolio includes work in software development, retail, brand creation, publication design, higher education, and non-profit. Prior to coming to Shatterbox she was employed in the University of Louisville's Office of Marketing and Communications.
"Shatterbox reached out to me after the 2015 Louisville AIGA awards and I really liked their work, " Izzy says. "I'm happy to be part of such a close-knit and creative team."
Shatterbox is a multidisciplinary design firm specializing in creative brand strategy, identity development, and award-winning interactive and print design. Shatterbox has been designing websites since 1995 and branding start-ups since 1998. Shatterbox won more than 120 gold Addy Awards from American Advertising Federation, including 3 Best of Shows, and 4 Judge's Choice Awards as well national and regional awards. Shatterbox is a winner of the HOW International Design Award for 2013. The studio is also recognized in GDUSA and Logo Lounge for their branding and logo design efforts. Shatterbox was also featured in the 2013 and 2014 PRINT Magazine's Regional Design Annual as one of the premier design studios in the United States.
For more information, please visit http://www.shatterboxstudios.com. Find Shatterbox on Facebook at https://www.facebook.com/ShatterboxStudios and on Twitter at http://www.twitter.com/shatterboxing. For additional information please contact Tina Fizer at (859)280-2600 or email her at tina(at)shatterboxstudios(dot)com