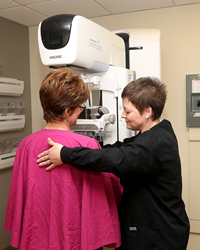 Studies show that mammography screening reduces breast cancer deaths by at least 28 to 36 percent.
Williamsport, PA (PRWEB) November 01, 2016
New guidelines for breast cancer screenings are fitted to the patient instead of one size fits all. UPMC Susquehanna Breast Health Center's Susan Branton, MD, FACS says these guidelines balance the benefits and drawbacks of mammograms for women who fall into the average risk category. The American Cancer Society and the United States Prevention Services Task Force encourage screening recommendations for patients of average risk but encourage shared decision making on a case-by-case basis.
Breast cancer affects one in eight females in the U.S. and the risk increases with age. "Knowing your personal risk level is the first step," Branton explains. Some risk factors such as smoking, alcohol use and obesity are modifiable but others such as breast density, personal history of chest radiation and family history are not.
Women are urged to be familiar with the details of their family's medical history for two or three prior generations. Doctors rely upon family history of cancers including who had breast cancer and ovarian cancer and at what age to help determine a patient's risk. There are several genetic syndromes that predispose to breast cancer that are now easy to test for and can prompt action before cancer develops.
"Studies show that mammography screening reduces breast cancer deaths by at least 28 to 36 percent," says Dr. Branton. These screenings are beneficial for woman ages 40 to 74 and most beneficial from ages 50 to 74. Mammography screenings include an X-ray of the breasts with two images recorded on each side. How frequently women obtain a screening is best determined by discussing the options with a primary care doctor or advanced practice professional. Screening for breast cancer is important and insurance coverage for screening mammograms has not changed. Recommendations for screening mammograms will evolve as newer technology and studies contribute to additional data and information.
Another risk factor that is important for women to know about is breast density. Women are now provided with information on breast density as part of the screening mammogram evaluation. Additional testing may be recommended for women with dense breasts. A 3D mammogram is now available for women with dense breast tissue and Pennsylvania legislation ensures that health insurance covers these screenings. Women with dense tissue may also be candidates for additional testing such as whole-breast ultrasound and MRI.
It is important for women to be proactive, know their personal risk and develop screening plans with help from a health care provider. The Pennsylvania Department of Health offers the HealthyWoman Program for uninsured or underinsured women to provide free, early detection screening for breast and cervical cancer. For more information, call 1-800-215-7494 or visit pahealthywomen.com.
About UPMC Susquehanna
UPMC Susquehanna is an affiliate of UPMC and a northcentral Pennsylvania based health system that includes Divine Providence Hospital, Muncy Valley Hospital, Soldiers & Sailors Memorial Hospital and Williamsport Regional Medical Center. Serving patients from an 11-county region, UPMC Susquehanna has been recognized at the national and state levels for quality of care. This regional provider offers a wide array of services that include cancer care, heart and vascular care/heart surgery, neurosciences including neurosurgery, orthopedics, urology, OB/GYN, gastrointestinal services, behavioral health, physical rehabilitation, home care, long term care, assisted living and paramedic/ambulance services.
About UPMC
A world-renowned health care provider and insurer, Pittsburgh-based UPMC is inventing new models of patient-centered, cost-effective, accountable care. It provides nearly $900 million a year in benefits to its communities, including more care to the region's most vulnerable citizens than any other health care institution. The largest nongovernmental employer in Pennsylvania, UPMC integrates 60,000 employees, more than 20 hospitals, more than 500 doctors' offices and outpatient sites, a 3-million-member health insurance division, and international and commercial operations. Affiliated with the University of Pittsburgh Schools of the Health Sciences, UPMC ranks No. 12 in the prestigious U.S. News & World Report annual Honor Roll of America's Best Hospitals. For more information, go to UPMC.com.