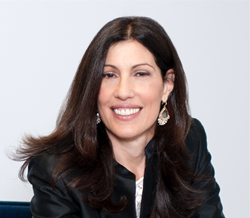 "Sharon brings significant expertise in Marketing, Brand Strategy and Innovation which deepens and expands our capabilities in this area. Sharon's extensive experience and her focus on pragmatic action and results will add significant value to our clients
San Francisco, CA (PRWEB) November 02, 2016
"I'm thrilled to be joining the Jackson Hole Group, because it occupies a distinctive place in the market with a set of Partners who bring a hands-on approach, along with a powerful combination of C Suite operating experience and advisory expertise," says Osen. "The JHG team has the skills, service offerings and an efficient and pragmatic mindset that are highly valued by senior executives and client teams."
Osen brings more than 25 years' experience in Marketing and Branding across 18 diverse business sectors, as well as expertise in Beauty, Retail and Consumer Goods. She has helped businesses from start-ups to mid-size and Fortune 100 companies craft a compelling brand vision, devise a road map for growth, elevate customer experience, define multi-channel strategies, and develop integrated marketing plans. The brands that she has served include L'Oreal, Estee Lauder, Colgate Palmolive, American Eagle Outfitters, Regent Hotels & Cruises, IBM, JP Morgan Chase, Motorola, McDonald's, Tommy Bahama, Renaissance Hotels & Resorts, JC Penney and more.
Before joining the Jackson Hole Group, Sharon served in a variety of senior leadership roles in Marketing and Consulting. Most recently, Sharon was CMO of the health, wellness and beauty lifestyle brand Perricone MD, where she helped propel US and International revenue, as well as elevate the brand's image and presence. Previously she served as SVP Global Marketing at La Prairie where she led the brand to double digit growth. Sharon also previously founded and led Luxury Brand Forum, a boutique consultancy dedicated to clients serving the affluent consumer, after honing her consulting skills at Interbrand, Siegel & Gale, and Desgrippes Gobe.
"We're very excited to have Sharon join us as one of our Partners," says Jim Wiggett, CEO of the Jackson Hole Group. "Sharon brings significant expertise in Marketing, Brand Strategy and Innovation which deepens and expands our capabilities in this area. Sharon's extensive experience and her focus on pragmatic action and results will add significant value to our clients."
For further information, contact Sharon at sosen(at)jacksonholegroup(dot)com and visit us at http://www.jacksonholegroup.com.