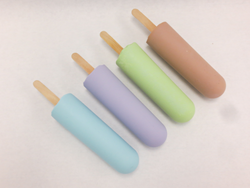 "Because the approval includes both higher and lower strength versions, we have a lot of flexibility in achieving customized blue, green, and other shades"
St. Louis, Missouri (PRWEB) November 02, 2016
Sensient® Colors, a division of Sensient Technologies (NYSE: SXT), today announced that Health Canada, the Canadian federal government's chief food regulator responsible for administering the Canada Health Act, has approved three separate Sensient spirulina extracts as food ingredients for blue color. This includes the industry's highest pigment version. Canadian food manufacturers are now able to achieve a wide array of blue, green, and caramel-free brown color shades.
Spirulina was approved by the US FDA for gum and candy in 2013 and broadly in most other applications in 2014. Spirulina has since been a critical source of color for a number of natural conversions. For ice creams, frostings, confections, beverage mixes, and yogurt, spirulina is an especially valuable addition to the palette of colors utilized by food formulators.
"Health Canada's decision is great news for many of our customers, especially those that manufacture products for both the Canadian and US markets. Because the approval includes both higher and lower strength versions, we have a lot of flexibility in achieving customized blue, green, and other shades" said Mike Geraghty, President of Sensient Colors LLC.
Health Canada considers all three of Sensient's spirulina extracts to be composite food ingredients that impart colour, not food additives. From a labeling perspective, food brands that employ a Sensient spirulina extract would use "spirulina extract" to identify the color on packaging.
About Sensient Colors LLC
Sensient Colors brings life to products, adding color and visual enjoyment to food and beverage applications worldwide. Offering unparalleled color innovation and proprietary technologies, Sensient Food Colors applies industry defining color expertise, enhancing brand value through premium sensory appeal and performance. Sensient Colors, LLC is located in St. Louis, Missouri.
About Sensient Technologies
Sensient Technologies Corporation is a leading global manufacturer and marketer of colors, flavors and fragrances. Sensient employs advanced technologies at facilities around the world to develop specialty food and beverage systems, cosmetic and pharmaceutical systems, inkjet and specialty inks and colors, and other specialty and fine chemicals. The Company's customers include major international manufacturers representing most of the world's best-known brands. Sensient is headquartered in Milwaukee, Wisconsin.