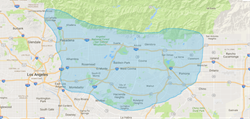 San Gabriel Valley, CA (PRWEB) November 02, 2016
A new method of going solar is coming to the San Gabriel Valley this fall. Los Angeles-based Pick My Solar, an online marketplace for homeowners to get competitive bids for solar, is gathering local homeowners to join in a community-wide solar group purchase program.
The program, called SolarUP San Gabriel Valley (http://www.SolarUpSanGabriel.com), enables homeowners to pool their buying power and secure pricing on a home solar installation with up to 20% savings. Pick My Solar secured this bulk pricing from two of the top rated installers on its solar marketplace platform. Homeowners can now receive a full 3D design of a solar system and a custom solar proposal for their home. There is no obligation or cost for this assessment. Enrollment for this program is currently open and ends December 9th.
This is the first time a program of this nature has been offered in the San Gabriel Valley area. The program leverages another shift in the solar industry aimed at maximizing value for the homeowners, the shift away from solar leases and towards ownership through solar loans.
"While many homeowners have gone solar through a lease in the past five years, new solar loan products have greatly improved the economics of solar for the homeowner, that's why 90% of our customers select an ownership option, either cash or a solar loan" said Kyle Cherrick with Pick My Solar.
Workshops will be held throughout the San Gabriel Valley in cities including Claremont, San Marino, San Gabriel City, East Pasadena, Glendora and more over the next six weeks to answer questions about the program and increase community outreach. Participants can also view live and recorded webinars on the program's website.
About Pick My Solar:
Pick My Solar (http://www.PickMySolar.com) is an online solar purchasing marketplace, providing home and business owners with expert advice and high quality custom bids from a national network of highly qualified solar installers. The overarching mission of Pick My Solar is to simplify the solar purchasing process, drive down costs, and provide the consumer advocacy necessary for solar to achieve broad market success. For more information, please visit: pickmysolar.com.
The service has won several awards including the Kauffman Foundation's Innovation Award, two U.S. Department of Energy Sunshot Catalyst awards, is a member of the Los Angeles Cleantech Incubator, was named the 2015 outstanding small business in the City of Los Angeles, and named 2016 SoCal Startup of the Year by Startup Grind.