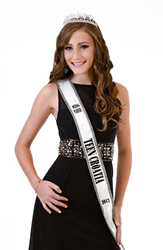 DELRAY BEACH, FLORIDA (PRWEB) November 03, 2016
Saint Andrew's School Student from Delray Beach, FL, Marissa Govic, is now a proud cultural teen ambassador after she was crowned Miss Planetary Teen Croatia 2017. A worldwide casting call was held with highly competitive auditions of which, Ms. Govic won the right to represent her cultural title from a field of 90 audition applicants. She is set to compete in Las Vegas, Nevada during the week of June 11th – 17th, 2017 alongside 40+ fellow delegates of which represent various countries, territories, and cultures from around the world. Included with her new title is an all-expenses paid trip, pageant competition clothing, pageant coaching, hair & make-up services for the chance to compete live on-stage in her quest to become Miss Teen Planetary International.
The Miss Teen Planetary International Pageant is a global beauty contest for teen girls ages 13 to 17, focused on bringing awareness to world issues and causes, as well as promoting charitability among today's teen girls. The competition implements the requirement for each teen delegate to raise money towards the philanthropic cause that is near and dear to them. As a delegate, Miss Planetary Teen Croatia, Marissa Govic, has pledged a goal to raise $5,000 or more towards her platform before the end of the Christmas season. Discussing her chosen platform and the motivation for selecting it, Ms. Govic explained: "My philanthropic cause for the pageant is child hunger. I chose this because I would love to bring awareness to child hunger around the world as well as in local communities. I have been involved with feeding local children in my community through various efforts. Many people are unaware of how many children are hungry after school, on weekends and during the summer. I would love to help all children overcome this unnecessary issue in the world."
Ms. Govic has designed t-shirts and other gifts / accessories for sale, featured on her pageant webpage, that is printed with her "Miss Planetary Teen Croatia 2017" name & logo on it. For every item purchased with her pageant logo on it, $10 will be donated towards an organization that supports her chosen philanthropic cause. She is petitioning the help of her Florida locals to pitch in and help her reach her fundraising goal before the end of the Christmas season. For more info about Marissa Govic or to buy one of her fundraising gifts for sale, locals can visit her webpage at: http://marissa.missplanetary.com. Not only will each contributor receive a beautifully designed gift in support of her; but it is for a good cause and each supporter will also receive free admission to the pageant's U-Stream channel to watch her on-line, in June of 2017, compete live on-stage for the title of Miss Teen Planetary and will also receive a copy of the beautiful pageant program book (which will include their name listed on her pageant Ad page as a supporter)! In addition, Ms. Govic will donate 10% of her debut song sales to her cause. Her song, "Ready," will be available on iTunes beginning November 1, 2016.