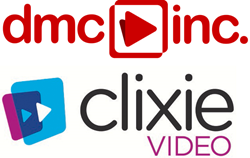 "Finally, the Newspaper Digital Advertising Industry has two companies that specialize in video creation, delivery, distribution and reporting of unique in-video interactions for mobile and desktop users.
Columbia, SC. (PRWEB) November 03, 2016
Digital Media Communications, Inc., (DMC) and Clixie Media, LLC., are pleased to announce an alliance which will truly benefit the newspaper digital advertising industry. Since 2008 newspapers and their digital divisions have matured to the point where they have become an essential player in the digital advertising world. However, with that designation also comes the need to constantly evolve, be ahead of the curve, and let their customers know they are the best local advertising solution. Clixie and DMC are uniquely positioned to allow newspapers to offer the most effective and technologically advanced form of interactive video advertising available in today's marketplace. DMC's Co-Founder and Co-President Steve Neubeiser says, "Finally, we have two companies that specialize in video creation, delivery, distribution and reporting of unique in-video interactions for mobile and desktop users. Our newspaper customers can offer their advertisers videos highlighting their promotions, sales events, products, job openings, homes, cars, etc., which can drive traffic to their businesses. In our 20 years of being a vendor to the industry, we have never been as excited about the present and future as we are at this moment and we are pleased to have Clixie Media along our side."
Tim Moore, Executive Director of Clixie Media LLC adds, "We are excited to have an experienced partner like DMC that can offer a unique solution for newspapers, advertisers and their audience. This is the first interactive video platform offered in the U.S. and will enhance the newspaper brand as a digital leader. No one else is able to offer a truly engaging interactive video experience that plays on laptops, desktops, tablets and mobile devices. DMC and Clixie will boost results and engagement for customers; improve customer retention and repeat business; and grow the newspaper's digital revenue and profits."
About Clixie Media LLC
Clixie Media provides an innovative interactive video experience to increase audience engagement and commercialization. Our executives have 50+ years experience in the media industry with solutions that are focused on solving the real-world business challenges of our customers. For more information, visit our website ate http://www.clixiemedia.com or contact Tim Moore at tmoore(at)clixiemedia(dot)com.
About DMC
DMC was founded in 1996 as a video advertising vendor to the newspaper industry. We were the first company to bring Internet video advertising to newspapers in 1999 and we are proud to have weathered the industry transition over the last several years. Since our inception, we have produced over 1.75M digital advertising videos and have evolved far beyond video creation. We offer an affordable, turnkey and revenue generating video solution for newspapers ranging from video creation, video players, social media distribution tools, and tracking/metrics, to sales training, native advertising, and technological integration. To learn more please contact Dan Contreras at 602-741-0155 or email him at dcontreras(at)digitalmediacommunications(dot)com.