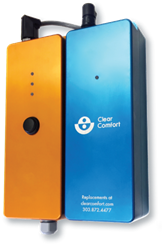 "We have listened to customer feedback and have delivered a new model that is more robust, easier to install and fits a wide range of pools and spas."
BOULDER, Colo. (PRWEB) November 02, 2016
Proven in more than 500 pools across the nation, Clear Comfort introduces the next generation of its chlorine-free pool system that provides customers with a healthier, more enjoyable swimming experience.
This new and improved design is available for pools, spas and recreational water. While competitors are working out the kinks in their first generation advanced oxidation systems, Clear Comfort is releasing this third generation product using its patented hydroxyl-based advanced oxidation technology. This new model simplifies installation and maintenance and boasts a cleaner, sleeker look.
"We are thrilled by the success our customers and dealers have had," says Clear Comfort CEO Steve Berens. "We have listened to customer feedback and have delivered a new model that is more robust, easier to install and fits a wide range of pools and spas."
Clear Comfort's groundbreaking technology provides clean, clear, soft water without the harmful chemicals and disinfection byproducts associated with chlorine sanitation. Mimicking the way our atmosphere cleans our air, Clear Comfort uses an advanced oxidation process to create hydroxyl radicals that oxidize contaminants on contact. A healthier, more sustainable solution for pool treatment, Clear Comfort is kind to eyes, skin, lungs and hair.
Clear Comfort will be offering this next generation of its CCW100 system to its pool industry partners on a limited basis through the end of 2016 and opening it to the wider market in early 2017.
About Clear Comfort
Clear Comfort manufactures and sells low chlorine and chlorine-free pool and spa water treatment systems. Clear Comfort's residential product provides complete, chlorine-free water treatment, while the commercial systems enable customers to reduce their chlorine use by as much as 70 percent. With headquarters and manufacturing in Colorado, Clear Comfort brings its customers a United States-made, sustainable product.