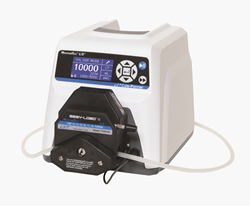 Vernon Hills, Illinois (PRWEB) November 02, 2016
The Cole-Parmer® Masterflex peristaltic pumps with open-head sensor interlock adds an extra layer of protection for technicians and operators tasked with tubing changes and routine maintenance. It is ideal for the pharmaceutical industry and other industries using peristaltic pumps. A retrofit system is available for adding this feature to pumps currently installed.
This technology is now available on Masterflex Easy-Load® pump heads compatible with all L/S® and I/P® drives. The extra layer of protection is particularly beneficial to prevent unexpected remote operation—when the pump is connected to a programmable logic controller or supervisory control and data acquisition system—similar to lockout/tagout procedures. Open-head sensors can also safeguard inexperienced or infrequent users of peristaltic pumps from injury while loading or changing tubing.
A retrofit solution is also available to upgrade existing Masterflex peristaltic pumps.
For more information on the open-head sensor interlock, retrofit system and full-line of Masterflex, go to http://www.masterflex.com or call 800-323-4340.
Cole-Parmer has been a leading global source of laboratory and industrial fluid handling products, instrumentation, equipment, and supplies since 1955. Our product lines, including popular brand names such as Masterflex®, Ismatec®, Oakton®, Digi-Sense™, and more, are sold through company-owned customer channel outlets and a strong network of international dealers. We also feature an ISO-17025-accredited metrology lab for instrument calibration and repair. Cole-Parmer responds with excellence to customer needs, and offers application expertise and technical support. For more information, contact Cole-Parmer, 625 East Bunker Court, Vernon Hills, IL 60061. In the US, call 800-323-4340. International customers, call 1-847-549-7600. Visit us at http://www.coleparmer.com.