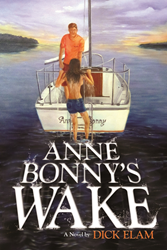 The love of sailing bonds my heroes. The appreciation of waterway life draws them closer.
DALLAS, Texas (PRWEB) November 01, 2016
Author Dick Elam has spent the majority of his years doing three things – reporting and editing, teaching and mentoring print and broadcast journalism students, and sailing. His newest writing venture is Anne Bonny's Wake (Brown Books Publishing Group), which launches today.
"I started writing the book in 1980," Elam says. "The impetus came with the purchase of a new (then) Apple II computer, a Letter Perfect document program and six weeks of summer vacation. I wrote, as I taught, about something I knew. When the words failed to gain interest from colleague and playwright Tad Mosel's New York agent, I set the manuscript aside."
The manuscript gathered dust for more than 30 years until Elam relocated to Lake Ray Hubbard just east of Dallas in 2013. With new determination, the first in the "Maggie and Hersh" series set sail.
The romance and crime thriller is set on a 30-foot, sloop-rigged sailboat named after a historical female pirate, Anne Bonny. Elam and a former University of North Carolina-Chapel Hill student owned, race and cruised the sloop in the North Carolina waterways.
"The love of sailing bonds my heroes," says Elam. "The appreciation of waterway life draws them closer. They see beauty in the muddy waters where 'watermen' fish, transport goods, and move people. They speak the same sailboat language, although one is a Yankee and the other a Southerner."
Anne Bonny's Wake is set in the 1980s when President Ronald Reagan waged his "War on Drugs."
"The United States market for drugs grew when the Reagan Administration expanded enforcement in 1982, and First Lady Nancy Reagan was encouraging her 'Just Say No' campaign" Elam says. "It was a time when Mexican drug cartels advanced from 'detected' to 'prevalent.'"
Elam charts a course filled with drug traffickers, a high seas chase from the Drug Enforcement Agency and Hersh's fascination with the mysterious Maggie.
Anne Bonny's skipper, Hersh, finds himself on a new course when a mysterious Maggie unexpectedly climbs aboard the Anne Bonny.
For more information, please visit http://www.dickelambooks.com.
Media contact: Brian Briscoe, 972.248.9500, Brian.Briscoe(at)TheAgencyatBB(dot)com
About Brown Books Publishing Group (BBPG)
Founded in 1994 as an Entrepreneurial Publisher for Entrepreneurial Authors®, Brown Books Publishing Group was established to fill a need in the publishing world by allowing authors to have a voice in the publishing process while retaining the rights to their intellectual property. Applying this innovative Relationship Publishing™ model, Brown Books has cultivated a prestigious stable of authors, from New York Times bestsellers to Pulitzer Prize winners and more. Boasting hundreds of high-quality books across genres, Brown Books is a fiercely independent publisher that encourages author empowerment. In 1994, Brown Books ushered in A New Era in Publishing™, and more than two decades later, continues to be a successful innovative leader in the publishing industry. For more information, please visit http://www.BrownBooks.com.
About The Agency at Brown Books (ABB)
As a subsidiary of Brown Books Publishing Group, The Agency at Brown Books is backed by more than 20 years of publishing excellence, leveraged in the first full-service public relations, marketing, branding and distribution provider within a publishing house. The Agency provides high-level public relations, marketing and distribution services for not only Brown Books authors, but also non-affiliated authors, all within the same house. For more information, please visit http://www.TheAgencyatBB.com.