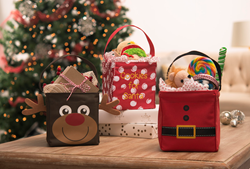 Columbus, Ohio (PRWEB) November 02, 2016
Thirty-One Gifts offers holiday products that give back
(COLUMBUS, OH) – November 1, 2016 – Direct-selling retailer Thirty-One Gifts has released its holiday gift guide and announces that this year all products will give back approximately 5 percent of net total sales to nonprofit organizations that serve and support girls, women and families.
Thirty-One's gift guide includes special holiday products with new holiday personalization on items such as pillows, aprons, totes, travel bags, gift bags and more. Many are offered only during the holidays and some are the company's most popular items, offered now in holiday prints.
"Giving is part of who we are," said Cindy Monroe, founder, president and CEO, "which is why we're proud to partner with nonprofit organizations that align with our mission. Our donations of cash and products will directly empower women, girls and families to live a thriving, purposeful life. Every purchase this holiday season and throughout the year will help impact the lives of many girls, women and families."
Thirty-One founded a philanthropic initiative called Thirty-One Gives in 2012 and since that date they've donated more than $90 million in cash and products to nonprofit organizations that share their mission.
Thirty-One also has partnered with national nonprofit organizations such as Ronald McDonald House Charities, where every family receives a Thirty-One tote; World Vision, providing products for health care workers in underserved countries; Girls on the Run and Girl Talk organizations providing programs that empower girls and build self-esteem; and Nationwide Children's Hospital, where Thirty-One has committed to provide funds for research and treatment for girls' behavioral health issues.
The company chooses its national philanthropic partners based on their proximity to its international sales field so they have opportunities to volunteer and donate to those charities on a local level. Many of the company's 85,000+ sales consultants are inspired to give back and they frequently coordinate donations of Thirty-One totes full of necessities for hospital patients, women in shelters and others in need. It is customary for Thirty-One, when filling totes with personal products, to also include a hand-written note of encouragement for the recipient of the donation.
Thirty-One's holiday gift guide can be found at their website http://www.thirtyonegifts.com/holiday-gift-guide/. There also is information about Thirty-One Gives and how to request a donation at their website http://www.thirtyonegifts.com/gives/how-we-give/.
About Thirty-One Gifts
Thirty-One Gifts is one of the world's largest direct-selling companies, offering purses and wallets, totes, thermal food storage, home organization solutions, home décor, jewelry and more. Thirty-One is a family of individuals who are proud to be in the business of building strong, confident women, and who are committed to celebrating, encouraging and rewarding others for who they are. The name Thirty-One Gifts comes from Proverbs 31, of the Bible, which describes the attributes and the importance of a "virtuous woman." With a mission to help women by giving them the opportunity to own their own businesses, Thirty-One provides all the tools and support necessary to find success and possibly build a new career. Cindy Monroe started Thirty-One in her basement in 2003. From those humble beginnings they've grown to include more than 85,000 independent sales Consultants throughout the U.S. and Canada – many of whom are reaching their dreams through this opportunity.
# # #