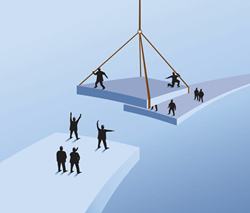 Blending our curriculum expertise with Wonderlic's technology, assessment, and digital badging expertise will undoubtedly result in a pragmatic, yet comprehensive solution for employers and educators alike. - Mike Lillywhite, SkillBott CEO
Vernon Hills, IL (PRWEB) November 02, 2016
Too many jobs are left unfilled as otherwise qualified job candidates simply don't have the soft skills necessary to compete in today's highly collaborative, communication-dependent work environment. This is particularly unfortunate for lower- to middle-skilled students who have invested the time and resources necessary to develop their hard skills yet struggle in pre-qualification calls and interviews.
"Initially, employers asked us to develop a soft skills pre-screening solution, but the gap was so great that the conversation quickly changed to on-the-job and post-secondary educator soft skills training," stated Amanda Opperman, Director of Competency-Based Solutions at Wonderlic, Inc. According to Opperman, "We knew that this need for training was a nationwide dilemma when over 750 employers responded to our National Soft Skills Survey and over 200 agreed to be on our Soft Skills Advisory Committee."
Wonderlic formed a Soft Skills Steering Committee to help design the Soft Skills Training Bootcamp. The Steering Committee worked with hundreds of employers and post-secondary educators to identify, refine, define, and gain consensus that the following soft skills are most valued by employers when making hiring decisions and conducting performance appraisals. These skills are the foundation of the Wonderlic Soft Skills Training Bootcamp:

Communication
Interpersonal Skills
Nonverbal and Listening Skills
Time Management
Critical Thinking
Initiative
Professionalism
Teamwork
The identification of these skills made it possible for the Steering Committee to search for soft skills curriculum providers who could deliver lessons that teach these skills, and they identified the best in breed – SkillBott. Originally developed by former Secretary of Education and Chicago Public Schools Superintendent Arnie Duncan under a grant from the Siemens Corporation, SkillBott's vast researched-based soft skills curriculum was the clear choice.
"We understood the significance and timeliness of this initiative and have been working with Wonderlic to make its goal of creating an eLearning soft skills bootcamp a reality," said SkillBott CEO, Mike Lillywhite. "Blending our curriculum expertise with Wonderlic's technology, assessment, and digital badging expertise will undoubtedly result in a pragmatic, yet comprehensive solution for employers and educators alike."
The Wonderlic Soft Skills Training Bootcamp is an online, competency-based, self-paced program that learners can take anytime, anywhere. There is a flex option for teachers who want to use it as courseware, which consists of expansion activities and reporting for the classroom. Each module consists of instruction that meets the soft skills needs of employers, including interactive practice items, scenarios, and situational judgment questions.
If you are an employer who is interested in joining Wonderlic's Soft Skills Advisory Committee, please click here to register for the committee's Biweekly Friday Forums.
If you are an educator interested in registering for a free trial of the Soft Skills Training Bootcamp, please click here.
About SkillBott
SkillBott's team of highly skilled professional educators brings more than 125 years of experience from the classroom, administration, IT customer service and support to provide learners and educators with proven, state-of-the-art College and Career Readiness Courseware. SkillBott is a comprehensive, standards-based curriculum, delivered online and accessible anytime/anywhere from SkillBott's Learning Management System (LMS), that teaches students soft skills or 21st Century skills they will need to obtain employment and build a successful career.
About Wonderlic
Wonderlic is a privately held company headquartered in Vernon Hills, IL and a founding member of the Association of Test Publishers. The company provides businesses and schools with a comprehensive library of highly regarded assessments and surveys for each phase of the hiring and student selection process. In its 75+ year history, Wonderlic has delivered over 300 million assessments and surveys for more than 60,000 organizations, government agencies, and accrediting bodies.