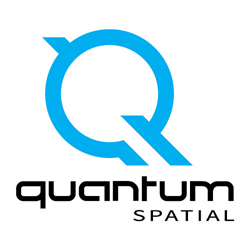 We are honored to strengthen our relationships with multiple government agencies, providing them vital data and powerful GIS tools that support their missions
Norcross, GA (PRWEB) November 02, 2016
Quantum Spatial, Inc., the nation's largest independent geospatial analytics firm, today announced that it was awarded a number of contracts in the federal government market, including with the U.S. Army Corps of Engineers and the Bureau of Land Management, during the third quarter of 2016.
"With our proven expertise in advanced imaging and remote sensing, and powerful visualization and GIS tools, we have long been the go-to vendor for federal agencies as they seek to preserve natural resources, manage public lands and maintain critical infrastructure," said Rajib Roy, CEO of Quantum Spatial. "We are honored to strengthen our relationships with multiple government agencies, providing them vital data and powerful GIS tools that support their missions."
Among the contracts awarded to Quantum Spatial during the third quarter were:
-- $12.5 million contract to provide photogrammetric and surveying and mapping to the U.S. Army Corps of Engineers, St. Louis District.
-- $9.5 million shared IDIQ contract to provide surveying and mapping support for military, civil and federal agencies for the U.S. Army Corps of Engineers, Mobile, Ala., District.
-- U.S. Department of Interior, Bureau of Land Management (BLM) five-year BPA contract to provide eGIS services in support of the BLM's mission of sustaining the health, diversity and productivity of the country's public lands.
About Quantum Spatial, Inc.
Quantum Spatial, Inc., (QSI) the nation's largest independent geospatial analytics firm, provides geographic insights to the largest government and corporate organizations that need geospatial intelligence to mitigate risk, plan for growth, better manage resources and advance scientific understanding. A pioneer in advanced mapping technology, QSI's end-to-end solutions and services deliver the industry's highest data quality and accuracy, while leveraging the widest array of technologies for analyzing all types of terrains. Customers use the company's acquisition, processing, analytics and visualization solutions in a range of technical and scientific disciplines – from geology and biology, to hydrology, forestry and civil engineering. Utilities, oil and gas producers, engineering and construction firms, as well as the military and major government agencies, are QSI customers. QSI has multiple offices around the country. For more information visit quantumspatial.com, join us on LinkedIn or follow us on Twitter @QuantumSpatial.