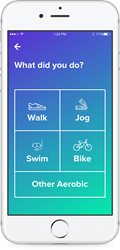 We are excited to offer patients this new model as a more convenient way to complete cardiac rehab—potentially preventing hospital readmission & ultimately helping improve overall health. --Maryann Classick-Wallace, director, Cardiac Rehab, Lourdes
(PRWEB) November 02, 2016
Despite its value and importance, cardiac rehabilitation is vastly underutilized by patients recovering from heart events, according to a recent paper published in the Journal of the American College of Cardiology. As such, the paper advocates for a new model of cardiac rehab delivery.
Our Lady of Lourdes Medical Center is leading the way to offer patients such a model. Lourdes has partnered with San Francisco-based Moving Analytics to implement a hybrid cardiac rehab program aimed at increasing patient compliance and breaking the barriers that lead to underutilization. Lourdes is the first hospital in the tri-state area to implement the hybrid model.
"Cardiac rehab is a comprehensive program that helps patients not only physically recover from a heart event but also teaches individuals the skills needed to make healthy lifestyle changes, improve quality of life and reduce risk of a future heart event," explains Maryann Classick-Wallace, RN, BSN, Director of Non-Invasive Cardiology and Cardiac Rehab at Lourdes. "We are excited to offer patients this new model as a more convenient way to complete cardiac rehabilitation—potentially preventing hospital readmission and ultimately helping improve their overall health."
Researchers say transportation, work schedules and affordability prevent many individuals from completing the program or participating at all. Fewer than half of heart attack patients who receive referrals to cardiac rehab enroll within six months following their event.
Lourdes is hoping to change that with Moving Analytics. The mobile health platform runs on an app, called Movn, which is delivered to the patient through a mobile device or tablet. The app guides patients through a care plan created by Lourdes cardiac rehab team. For the clinician, a web-based portal enables staff to track patient progress, communicate with patients and administer care plans.
Eligible patients who choose to enroll attend an admissions interview (initial visit) and have several exercise and education appointments at the medical center—similar to traditional cardiac rehabilitation. Once cleared to start the hybrid program, they only come to Lourdes once a week versus traditional cardiac rehabilitation of three times a week.
Moving Analytics' evidence-based care plans have been shown to produce similar clinical outcomes as traditional rehab. In addition, up to three times more patients participate and 85 percent complete the program.
"Working with the innovative team at Lourdes has been fantastic," said Harsh Vathsangam, CEO of Moving Analytics. "What has particularly struck us is how the team has taken advantage of technology to truly take the clinician-patient relationship beyond the four walls of the hospital."
The program is designed for low-risk patients. Patients are identified by Lourdes staff and offered the program at no additional cost. If a patient chooses to enroll, he or she is trained by staff on how the app works.
"This system gives us a tool to help improve patient outcomes because of its convenience," said Faith Bockol, RN, BSN, cardiac rehabilitation nurse at Lourdes. "It also opens a line of communication between the clinician and the patient. Better communication allows us to achieve the ultimate goal—improved health and fewer hospital readmissions. It's a win-win."
To participate, a patient needs a scale, blood pressure cuff, fitness tracker, and a smartphone or tablet. If a patient needs any of these items but does not own them, the program lends the equipment to the patient for the duration of the treatment plan.
For the exercise portion of the program, patients can use their own home fitness equipment—a stationary bike, treadmill, rowing machine, or equipment from a local gym or a hotel fitness center (if traveling). Brisk walks around the neighborhood are also an option.
"We create individual plans for each patient, with heart rate and exertion guidelines," said Bockol. "Patients enter exercise data, exertion level, weight, blood pressure, and answer questions about taking their medication. Our staff then analyzes the data."
For clinicians, the system also captures information about activity behavioral patterns and when users are most engaged. Care providers can see trends, identify at-risk patients and track long-term progress as patients evolve through the program.
For patients, the system helps build tiny habits of activity into the day. If the user is sitting for too long, the app will remind them to move. If they are regularly active, the patient will be congratulated.
"The app is user-friendly," said Bockol. "Patients can ask questions through chat (similar to a text), and watch videos on stress reduction, exercise, diet, emotions, medication, and smoking. We are alerted if anything is out of our set parameters for a particular patient, such as weight or blood pressure. The patient can report if he or she is experiencing any signs or symptoms to the nurse through the app. We review emergency guidelines with all patients.
"This is just the start and we are seeing good compliance already. Our team likes that it reinforces what the patient has already learned."
Added Classick-Wallace, "By addressing barriers to meet the needs of our patients, we aim to connect patients with the care they need. Given how things are trending, telemonitoring is the future and we are excited to lead the way in keeping people well and out of the hospital."
Lourdes is known for its innovation in heart care and is one of the largest providers of cardiac services in the Delaware Valley. In June 2015, the New York Times featured Our Lady of Lourdes Medical Center as a national model in the effective and swift treatment of heart attacks (http://files.parsintl.com/eprints/88434.pdf).
Lourdes has received a variety of awards from Healthgrades, the nation's leading health ratings organization, and most recently received the Healthgrades' 2017 Cardiac Surgery Excellence Award. Lourdes has also been named one of the nation's 50 Top Cardiovascular Hospitals by Truven Health Analytics in 2014, when it was also recognized by Becker's Hospital Review as one of the nation's "100 Hospitals and Health Systems With Great Heart Programs."