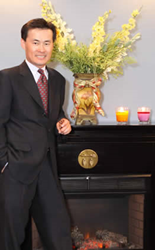 Diamond Bar, CA (PRWEB) November 01, 2016
Dr. Jin Y. Kim, a board-certified specialist in periodontology, is pleased to announce that he is now accepting new patients for treatment of their gum disease in Diamond Bar, CA now without a referral. Dr. Kim uses an advanced laser dentistry treatment known as the LANAP® protocol, which precisely targets harmful bacteria while leaving healthy tissue unharmed. Dr. Kim recommends that all eligible patients with moderate to severe gum disease undergo this treatment in order to avoid potential systemic health issues associated with the condition.
Gum disease is a severe condition that affects over 64 million American adults, according to the Centers for Disease Control and Prevention. When patients fail to have the condition treated, it can have serious consequences. Researchers have now discovered that the bacteria that cause periodontal disease in the mouth may be responsible for, or contribute to, systemic health issues such as heart disease, diabetes and certain cancers. This is why it is imperative that patients with gum disease in Diamond Bar, CA seek treatment immediately.
The LANAP® protocol is designed to clear away pockets of infection that form along the gum line while promoting healing of the area in a sterile environment. Because it is performed using laser dentistry, Dr. Kim can specifically target diseased tissue while leaving the healthy tissue intact and unharmed. The results of the procedure are unmatched when considering the benefits it provides. Unlike traditional gum surgery, the LANAP® protocol is minimally invasive, scalpel-free and results in little to no pain or discomfort. Patients often report less sensitivity, less gum loss and very little downtime following the treatment when compared to traditional gum surgery.
Patients who believe they may have some form of gum disease in Diamond Bar, CA are invited to contact Dr. Kim's office to schedule an appointment to discuss how laser dentistry can help them reclaim their health. New patients can schedule appointments at Dr. Kim's Diamond Bar location by calling 909-860-9222.
About the Doctor
Dr. Jin Y. Kim is a periodontist dedicated to providing personalized dental care in Diamond Bar and Garden Grove, CA. Dr. Kim attended the University of Sydney Faculty of Dentistry before furthering his education with an advanced degree in pathology from the Medical School of the same University. Dr. Kim completed a periodontics and implant surgery residency at UCLA School of Dentistry. A uniquely dual board-certified specialist, Dr. Kim was board-certified by the American Board of Periodontology and the American Board of Oral Implantology/Implant Dentistry. The International Congress of Oral Implantologists and the American Academy of Implant Dentistry both gave him the title of Fellow. He was also inducted to be a Fellow of the prestigious American College of Dentists. Dr. Kim enjoys lecturing at UCLA School of Dentistry as well as national and international academic and clinical associations and universities including the International Association of Dental Research, American Academy of Periodontology and Academy of Osseointegration. To learn more about Dr. Jin Kim and the services he offers, visit his website at http://www.drjinkim.com or call (909) 860-9222 for the Diamond Bar location or (714) 898-8757 for the West Garden Grove location to schedule an appointment.