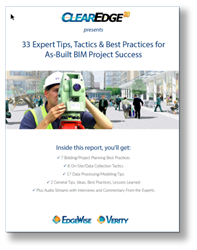 Washington D.C. (PRWEB) November 03, 2016
Mark Hanna, CEO of scanning and modeling provider PrecisionPoint believes the difference maker in his project success is a simple motto: "no two projects are the same." By successfully accounting for each site's unique conditions, and making necessary scanner adjustments, he ensures his field collection work runs at maximum efficiency.
This is just one of the many best practices and workflow enhancement contained in a new report titled: 33 Expert Tips, Tactics & Best Practices for As-Built BIM Project Success. The report, based on interviews with five experienced scanning and modeling experts, focuses on tips and tactics for successful as-built project planning, field collection and 3D modeling. The report also includes an audio track from interviews with the experts, explaining each tip in greater detail with real-world project examples.
Michael Pfaff, project manager at 3D Imaging Services and a report contributor, believes one of the biggest mistakes one can make on-site is using cheap equipment. "Movement and vibration are your enemy! Invest in a decent tripod with stabilizer pads," he advises.
Here are other best practices included in the report:

One simple way to ensure your clients give you repeat business
The "cardinal sin" of modeling as-builts in Revit (never, ever do this!)
The type of client relationship that can quickly turn disastrous…and how to avoid it.
The one inexpensive tool you should always have on-site (so many people forget this!)
Technology that can speed your modeling workflow dramatically
The myth behind computer hardware for BIM: Read this before you buy any new workstations
Hanna and Pfaff, as well as industry leaders Larry Kleinkemper, Greg Hale and Matthew Byrd, share many other hard-earned tips (in the report and on the audio track) to ensure that your next project is your best project. Download a free copy of the report by clicking here http://bit.ly/2fs27hb