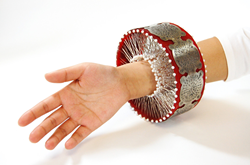 This exhibition is meant to provoke conversation and educate the public about media, technique, and skill.
Houston, Texas (PRWEB) November 03, 2016
Houston Center for Contemporary Craft (HCCC) presents "CraftTexas 2016," the ninth in a series of biennial juried exhibitions showcasing the best in Texas-made contemporary craft. Featuring 53 works by 38 artists, the exhibition includes everything from sculpture, jewelry, installation, and cut paper to works that explore diverse subject matter, including genetics, upcycling, and process. The show is on view now through January 8, 2017.
The "CraftTexas" series provides a unique opportunity for Texas artists to have their work viewed by three established jurors and to display their work in an exhibition that strives to broaden the understanding of contemporary craft. The show features exceptional work in clay, fiber, glass, metal, wood and mixed media. HCCC Curator, Kathryn Hall, says, "This year's selection of work pushes the boundaries of traditional craft media, placing craft as a field into a broader contemporary context. Displaying an impressive selection of forward-thinking makers residing in Texas, this exhibition is meant to provoke conversation and educate the public about media, technique, and skill."
"CraftTexas 2016" was juried by Paul Sacaridiz, Executive Director of Haystack Mountain School of Crafts; Nicole Burisch, Core Fellow Critic-in-Residence at the Museum of Fine Arts, Houston's Glassell School of Art; and HCCC Texas Master, Sandie Zilker, Associate Dean—Student Exhibitions and Events & Area Coordinator/Jewelry & Enamel at the MFAH Glassell School of Art. The jurors were tasked with selecting the finest works from a pool of 556 pieces and 210 applicants. Three of the featured artists received Awards of Merit for their outstanding work: Jennifer Ling Datchuk (San Antonio, TX) for "Blue and White: Delicate Diva," 2014; Susannah Mira (Houston, TX) for "Loose Ends," 2015; and Younha Jung (Houston, TX) for "Untitled 40," 2014.
Exhibition Dates
September 23, 2016 - January 8, 2017
About Houston Center for Contemporary Craft
Houston Center for Contemporary Craft is a nonprofit visual arts center dedicated to advancing education about the process, product and history of craft. HCCC provides exhibition, retail and studio spaces to support the work of local and national artists and serves as a resource for artists, educators and the community at large.
Located in the Museum District at 4848 Main Street, HCCC is open Tuesday through Saturday, 10 AM – 5 PM, and Sunday, 12 – 5 PM. Summer Hours: Closed Sundays, July 5th – Labor Day. Holidays: Closed Easter, July 4th, Labor Day, Thanksgiving Day, Christmas Day and New Year's Day. Admission is free. Free parking is available directly behind the facility, off Rosedale and Travis Street. HCCC is three blocks south of Wheeler Ave. MetroRail station on Main Street.
HCCC is funded in part by grants from The Brown Foundation; Houston Endowment, Inc.; the City of Houston through the Houston Arts Alliance; Texas Commission on the Arts; the National Endowment for the Arts; the Kinder Foundation; the Morgan Foundation; Windgate Charitable Foundation; and the Wortham Foundation. HCCC is a member of the Houston Museum District and the Midtown Arts District.
For more information, call 713-529-4848 or visit http://www.crafthouston.org. Find HCCC on Twitter, Facebook, and Instagram @CraftHouston.