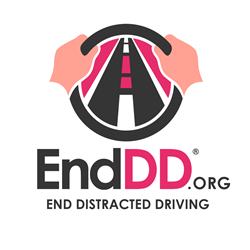 Our goal is to reduce the number of distracted drivers on our roads, keep people safer, and cut down on preventable deaths
Philadelphia, Pa (PRWEB) November 02, 2016
Their name says it all. End Distracted Driving. The founder of EndDD.org, Joel Feldman, continues to spread his safe driving message across North America, most recently to 450 Green Mountain Power Company employees in Vermont.
"The message remains the same, no matter the location and no matter who is driving," said Feldman. "Our goal is to reduce the number of distracted drivers on our roads, keep people safer, and cut down on preventable deaths."
Sadly, distracted driving kills more than 10 people every day and injures more than 1,000. Distracted driving goes far beyond just texting and talking on smartphones. In fact, cell phone use accounts for only 18% of distraction related deaths. It only takes a second for a driver to take their attention off the road by eating while driving, changing music, looking down at a map, or putting on lipstick.
Feldman's daughter Casey was simply walking across the street at a crosswalk when she was struck and killed by a distracted driver, who took his eyes off the road for a couple of seconds. Feldman's message, if it can happen to a member of his family, everyone is at risk.
His presentations to Green Mountain Power Company (GMP) employees, who drive more than three-million miles per year, quickly caught the attention of every person in attendance.
"Joel's talk sent reverberations through this organization in a very meaningful way," said GMP CEO Mary Powell. "It is the first presentation I have ever witnessed that is rapidly moving our employees into action and behavior change that could save lives."
GMP, the largest energy supplier in Vermont, has become an industry leader in safety and performance on many different levels, becoming the first energy supplier in the world to receive the "B Corp" designation certifying that it met rigorous standards of social and environmental performance, accountability, and transparency.
With the personal story of the tragic loss of his daughter to a distracted driver, poignant videos, interactive exercises and other techniques, Feldman believes the employees he spoke with are well on their way to initiating change in their driving behavior for the better.
"I was so impressed with the safety culture at GMP and the genuine concern of management for the safety of each and every employee and their families," added Feldman. "Many employees reflected on their own driving behaviors and committed to driving safer for themselves, co-workers and their children - and committed to speaking up when seeing those they care about driving distracted."
Since the death of his daughter Casey, Joel Feldman, a Philadelphia attorney, obtained a Masters in counseling and has spoken with more than 300,000 students and adults about distracted driving.
How Can You Help?
For more information and to schedule a Joel Feldman, End Distracted Driving presentation at a business or school please email info@EndDD.org
Working together we can reduce distracted driving and keep those we care about safe.
About the Casey Feldman Memorial Foundation and EndDD.org
In July of 2009 Casey Feldman was killed by a distracted driver. EndDD.org (End Distracted Driving) was created to reduce distracted driving through public safety and educational campaigns. EndDD.org provides science-based presentations to middle school, high school and college students, as well as adults, parents and businesses. To date EndDD.org presentations have been seen by more than 300,000 teens and adults across the US and Canada. For more information contact Joel Feldman, Esq., MS at info@EndDD.org