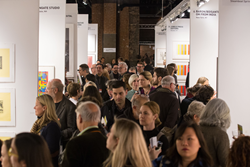 I discover something new and exciting every year at E/AB.
New York, NY (PRWEB) November 02, 2016
The Editions/Artists' Books Fair (E/AB)--New York's premier showcase for contemporary art publishers and dealers—returns for its 18th year thisThursday, November 3rd-6th to Chelsea's Waterfront Tunnel (269 11th Avenue). Timed to coincide with New York Print Week, this year E/AB will showcase 40 publishers and dealers from across the US, Europe, South Africa, and Japan presenting new works by emerging, mid-career, and established artists in a variety of mediums.
Newcomers including Damien Hirst's Other Criteria, Art+Culture Projects (New York), Japanese publisher Gallery Jin, and Warren Editions of Cape Town, South Africa will join Columbia University's renowned LeRoy Neiman Center for Print Studies, Los Angeles based Cirrus Editions, and Minneapolis-based Highpoint Editions. Exhibitors will present acclaimed artists including John Baldessari, Julie Mehretu, Ghada Amer, Linda Benglis, MacArthur Genius Award recipient Nicole Eisenman, and rising stars such as Derrick Adams, LaToya Ruby Frazier, and Alexa Horochowski.
This year, E/AB has commissioned limited edition benefit prints to support the Fair's mission to provide free admission and educational programming. Renowned American artist Philip Taaffe has created two arresting images -- "Extinct Leaf Page", created from a fossil found by the artist and "Lizard Page", an artful composition inspired by the carved lizards and toads that adorn the handrail of pulpit of the renowned Viennese church of St. Stephen, which symbolize the fight between good and evil .
GENERAL INFORMATION
The Waterfront Tunnel
269 11th Avenue, New York NY
Dates and Times of the Fair as follows:
Press Preview: Thursday, November 3 / 5pm-6pm
First View: Thursday, November 3 / 6pm-9pm (VIP guests and ticket holders) Tickets are $25
General Hours
Friday, November 4: 11am – 7pm
Saturday, November 5: 11am – 7pm
Sunday, November 6: 11am – 5pm
PROGRAMS
Friday, November 4: 3pm
Artists William Villalongo and Mark Thomas Gibson speak with Noel W. Anderson, Area Head Printmaking, Department of Art and Art Professions, NYU/Steinhardt, New York, NY, about their own work in printmaking and Black Pulp!, a groundbreaking show they co-curated at Yale School of Art, 32 Edgewood Gallery and IPCNY.
Saturday, November 5: 2pm
Collaborative artistic duo, Ghada Amer and Reza Farkhondeh speak about their work with Brett Littman, Executive Director of New York's iconic museum The Drawing Center. Together, Amer and Farkhondeh create multi-layered mixed media prints. The two collaborated for their first series of drawings and prints in 2005 and continue to do so under the moniker RFGA.
ABOUT GUEST CURATOR JOE AMRHEIN
Joe Amrhein is a visual artist and is the founder and Co-owner / Director of Pierogi gallery and The Boiler. Originally from Sacramento, CA, Amrhein lives and works in Brooklyn, NY. Pierogi, widely known for its inventive program, was launched 22 years ago and features the work of contemporary emerging and mid-career artists in a wide variety of media; from drawing and painting, to sculpture, installation, photography, and video. The gallery is also known for its "Flat Files" that house original works by over 800 visual artists.
ABOUT THE FAIR
Editions/Artists' Books Fair (E/AB) is New York's premier showcase for contemporary publishers and dealers, presenting the latest and greatest in prints, multiples, and artists' books. The Fair is known for its vibrant energy thanks to its innovative international exhibitors, and hundreds of artists shown. Each year E/AB presents a thoughtfully curated exhibition of works by hundreds of emerging and established artists and an informative program of artist talks.
Founded in 1998 by Susan Inglett of I.C. Editions, in partnership with Brooke Alexander Editions and Printed Matter, the Fair is now presented by the venerable non-profit organization, the Lower East Side Printshop.
CULTURAL PARTNERS
Art Table
Print Fair
Print Council of America
MEDIA PARTNERS
Art in America
Art in Print
Art News
Printed Editions