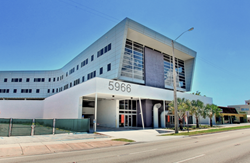 We love the local vibe and amenities of the neighborhood.
(PRWEB) November 02, 2016
Büro Group, South Florida's leading coworking company, has signed a lease for 13,000 square feet of office space in the recently completed SOMI Center building in the heart of South Miami.
The new location will be Büro's fifth in South Florida, following its successful openings in Midtown, Sunset Harbour, MiMo and most recently Coconut Grove. Like the others, Büro SOMI will feature state-of-the-art amenities, stylish communal spaces, and a variety of flexible workspace options for individuals and teams. Members of Büro SOMI will also benefit from monthly networking events, workshops, and exclusive discounts at popular Miami restaurants and shops.
"We are very excited about the new South Miami location," said Büro Founder and CEO Michael Feinstein. "The building itself is iconic, and we love the local vibe and amenities of the neighborhood. There's a lot of action in South Miami these days and the opening of Büro SOMI will only add to that momentum."
Leonard Boord, the managing partner of SOMI Center, agrees that Büro's modern workspace offering will be a perfect fit for the neighborhood. "There is definitely a shortage of office space, especially the type of creative and flexible space that appeals to startups and growing companies," noted Boord. "Büro will fill that void and bring lots of exciting and dynamic companies to South Miami, just as they have done in other locations."
Büro's growing entrepreneurial community now includes over 800 members across 350 companies. In addition to housing numerous Miami-based startups, professional firms and creative agencies, Büro serves as the local HQ for popular brands such as Airbnb, Gilt Group, Glamsquad and Lyft. The company was recently awarded "Best Coworking Space" by Miami New Times.
Büro SOMI is scheduled to open in the spring of 2017 and is now accepting workspace reservations.
For additional information please visit http://www.buromiami.com, or email Masha Grinberg at masha(at)buromiami.com. High-res images of all Büro locations are available upon request.