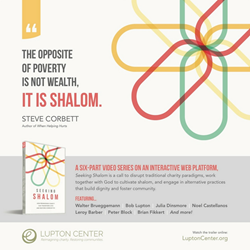 "I support the idea that the opposite of poverty isn't wealth, it's flourishing and thriving – or shalom," explained Duncan. "We think it's time to go beyond just meeting needs to Seeking Shalom."
Atlanta, Ga (PRWEB) November 03, 2016
The Lupton Center, the training division of FCS | Focused Community Strategies, has introduced Seeking Shalom, a dynamic, six-part eCourse based on their popular workshops to equip churches, nonprofits and practitioners with the tools they need to reimagine the charity paradigm.
FCS, an Atlanta-based community ministry, partners with under-served neighborhoods to provide innovative and holistic development to produce flourishing neighborhoods. They currently live and work in Historic South Atlanta.
"Caring for the materially poor is a core tenant of the Christian faith," said Shawn Duncan, director of training and education at the FCS Lupton Center. "But, even armed with the best of intentions, traditional charity hasn't had a lasting impact on the very real and complex problem of poverty.
"Our experience informs our belief that the traditional model doesn't work, and we offer an innovative model that has proven to be successful."
Through Seeking Shalom, FCS and its Lupton Center seek to amplify its rich inheritance of wisdom borne from 40 years of success and failure in supporting neighborhood revitalization. The series presents profound stories, practical insights and personal experiences from more than 30 of today's most compelling voices, including community leaders, those experiencing material poverty, biblical scholars and innovative practitioners.
The leaders who contributed their experiences include Bob Lupton, Noel Castellanos, Julia Dinsmore, Leroy Barber, Walter Brueggemann, Peter Block, Brian Fikkert and Steve Corbett (When Helping Hurts).
Seeking Shalom participants will examine why traditional paradigms aimed at addressing poverty are not working, engage a more theologically rich framework for understanding material poverty and be exposed to five principles for having a transformative engagement with material poverty. The series is based on the popular workshops, seminars and open houses held by the Lupton Center to challenge outreach groups to reimagine charity in ways that truly transform communities.
The content is declared on an interactive web platform for ministries, seminary students, groups, teams and leadership classes to engage and discuss. The video content is supplemented by robust online tools including discussion boards, resources pages and dashboards to mark progress through the course. If one registers as an organization, there is also a 50-page Leader's Guide to facilitate in-person gatherings that take the learning every further.
Seeking Shalom is available now for an introductory rate effective through 2016. The licensing fee ranges from $129 for a single group to $999 for unlimited groups within the same organization.
Individuals can begin the journey online, joining a public group that started the course at the beginning of each month, or when the group reaches 25 participants, for an introductory fee of $15 through 2016.
"I support the idea that the opposite of poverty isn't wealth, it's flourishing and thriving – or shalom," explained Duncan. "We think it's time to go beyond just meeting needs to Seeking Shalom."
About the Lupton Center:
The Lupton Center is the training and consulting division of FCS | Focused Community Strategies. Whether you are just beginning this journey or you are a veteran practitioner, they offer dynamic resources that prepare you to create real and lasting change.
FCS' unique approach to neighborhood transformation, its lengthy experience, and the wealth of wisdom that has accumulated in Bob Lupton and the current FCS leadership team make it a popular resource to share its model with other organizations and individuals seeking to effect change. FCS receives dozens of solicitations for training annually. An experiment with an annual, two-day, Open House has grown into a tri-annual event that serves more than 250 people per year. FCS formalized an education platform and created "The Lupton Center" that will educate and train communities with similar issues in the best practices developed over the years, thereby multiplying the positive effects of FCS' learning.
Through the Lupton Center they are changing the charity paradigm and equipping others for healthy community development.This is done through dynamic training events and creative educational resources. FCS has a rich and ready inheritance of wisdom born out of its many years of successes and failures, and it is ready to aggressively and thoughtfully share best practices to create a model that like-minded organizations can replicate in their own communities.
They offer a variety of training and consultation opportunities for individuals, organizations, churches, and foundations.
Learn more at http://www.luptoncenter.org.