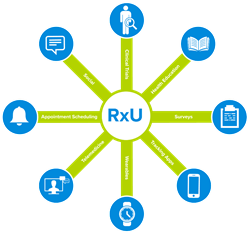 RxUniverse allows physicians and other healthcare providers to seamlessly and confidently integrate evidence-based digital health tools into their practice.
New York, NY (PRWEB) November 02, 2016
Researchers in the Sinai App Lab at the Icahn School of Medicine at Mount Sinai have developed RxUniverse, the first enterprise-wide digital medicine care delivery system that enables physicians to digitally prescribe evidence-based mobile health applications to patients at the point of care.
[See video for more information here
With countless mobile health apps available to consumers, there is no standardized method for providers to know which ones will clinically benefit their patients, and no way for them to share them with patients directly. Through RxUniverse—which features a curated list of apps that have been evaluated for efficacy based on published evidence and incorporated into a digital prescription delivery system—Mount Sinai Health System aims to be the first provider network in the country to address this problem.
"RxUniverse allows physicians and other healthcare providers to seamlessly and confidently integrate evidence-based digital health tools into their practice," said Ashish Atreja, MD, MPH, Chief Technology Innovation and Engagement Officer and Director of the Sinai AppLab, Icahn School of Medicine at Mount Sinai, "Apps have typically been recommended to patients verbally, but with the myriad of mobile health apps on the market, many with no proven evidence, it is a challenge for providers and patients. RxUniverse eliminates these uncertainties and barriers to digital medicine."
The RxUniverse platform was launched in August 2016 in a pilot phase throughout five clinical areas at Mount Sinai. Since then, participating physicians have prescribed more than 2,000 apps, exceeding 20 times the pilot goal. In response to this success, the Sinai AppLab has partnered with Mount Sinai Innovation Partners to launch a new startup company, Responsive Health, which will license RxUniverse for use by other health systems.
"As the pace of innovation in digital medicine accelerates, there will be increasing demand for the ability to quickly integrate new apps into our health care systems," said Kenneth L Davis, MD, President and CEO, Mount Sinai Health System. "Mount Sinai is proud to be at the forefront of digital medicine and dedicated to streamlining the eHealth care delivery model to further our mission to provide world-class care to our patients."
RxUniverse is part of a larger ecosystem called the Network of Digital Evidence (NODE Health), which provides a community forum and structure for health system technology experts, digital medicine tech companies, clinicians and patients, to come together around digital medicine and the state of scientific evidence surrounding its design, efficacy, and implementation.
"RxUniverse will empower health care providers to bring multiple digital health tools directly to the hands of our patients quickly and reliably," said Bruce Darrow, MD, PhD, Chief Medical Information Officer of the Mount Sinai Health System.
The applications for RxUniverse do not stop at mobile health apps. Specifically tailored educational content, patient satisfaction surveys, and other tools can be digitally prescribed to individual patients, or entire populations of people.
About the Mount Sinai Health System
The Mount Sinai Health System is an integrated health system committed to providing distinguished care, conducting transformative research, and advancing biomedical education. Structured around seven hospital campuses and a single medical school, the Health System has an extensive ambulatory network and a range of inpatient and outpatient services—from community-based facilities to tertiary and quaternary care.
The System includes approximately 7,100 primary and specialty care physicians; 12 joint-venture ambulatory surgery centers; more than 140 ambulatory practices throughout the five boroughs of New York City, Westchester, Long Island, and Florida; and 31 affiliated community health centers. Physicians are affiliated with the renowned Icahn School of Medicine at Mount Sinai, which is ranked among the highest in the nation in National Institutes of Health funding per investigator. The Mount Sinai Hospital is in the "Honor Roll" of best hospitals in America, ranked No. 15 nationally in the 2016-2017 "Best Hospitals" issue of U.S. News & World Report. The Mount Sinai Hospital is also ranked as one of the nation's top 20 hospitals in Geriatrics, Gastroenterology/GI Surgery, Cardiology/Heart Surgery, Diabetes/Endocrinology, Nephrology, Neurology/Neurosurgery, and Ear, Nose & Throat, and is in the top 50 in four other specialties. New York Eye and Ear Infirmary of Mount Sinai is ranked No. 10 nationally for Ophthalmology, while Mount Sinai Beth Israel, Mount Sinai St. Luke's, and Mount Sinai West are ranked regionally. Mount Sinai's Kravis Children's Hospital is ranked in seven out of ten pediatric specialties by U.S. News & World Report in "Best Children's Hospitals."
For more information, visit http://www.mountsinai.org/, or find Mount Sinai on Facebook, Twitter and YouTube.
# # #