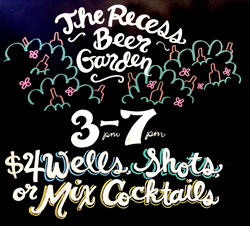 Manchester, New Hampshire (PRWEB) November 03, 2016
Adored, the pioneering startup bringing marketing automation to Main Street, announced today it has launched in Denver, Colorado, which allows Mile High locals to know what is new and fresh at Denver bars, restaurants and cafes, like Linger, Mad Greens, Rioja, City O' City and Yard House.
Adored, which features what's fresh now for lunch, dinner, drinks and entertainment and sends the most ephemeral daily specials directly to end-users' phones, beta launched in three Denver neighborhoods a few weeks ago. The response was so overwhelming that the east coast-based startup is now doing a full launch.
In only a few short weeks, Adored saw:

More than 10,000 users in Denver receiving daily specials on web, email and mobile
More than 1,700 downloads of the Adored mobile app in Denver
More than 550 Denver bars, restaurants and cafes with daily specials
More than 300,000 views of daily specials for Denver happy hour, Denver dinner specials, drinks, craft beer, coffee, live music, trivia and entertainment
Denver users are loving the app because it is a new way of interacting with their favorite places.
"Honestly, there are a lot of different restaurants that I could spend my money at," said Cody Poirot of Denver, "so if a place gives me a specific reason to go there today, I am more likely to patron it. Adored brings those local places to my phone and allows me to make the most real-time decisions on where I go for Happy Hour or dinner. As a consumer, it is incredibly empowering."
While consumers enjoy Adored, local businesses understand the value as well because Adored uses an old marketing technique (daily specials, features and events from chalkboards) in a new way (mobile app) to solve major marketing problems. Adored allows businesses to talk to the right customer, with the right content, at the right moment.
"Instead of trying to force more content into noisy and unattributable channels, we amplify the freshest, most beautiful content you're already creating directly where your customers want it (on their smartphone) cutting through the noise and allowing businesses to engage with their customers in an unprecedented way," said Cory von Wallenstein, CEO, Adored.
The Denver launch kicks off a busy few months for Adored, which is beginning to spread its user base across the United States by entering into new markets.