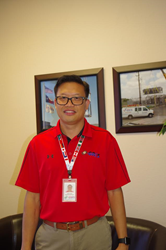 Phan's character fits well with CAPS' engineering culture
Houston, Texas (PRWEB) November 02, 2016
Custom Air Products & Services, Inc. (CAPS), a leading commercial and industrial, heating, ventilation and air conditioning (HVAC) company based in Houston, Texas (US), just announced a transformation within the engineering department.
"It is an honor," says Taylor Norris, CEO of CAPS, "to introduce to the industry and our customers another visionary that has joined our team, Mr. John Phan."
Phan a 12-year engineering veteran, joins CAPS as Engineering Manager and will lead a team of engineers and draftsmen towards a continuous pursuit of standards of excellence.
"Phan's character fits well with CAPS' engineering culture," says Norris. "He is analytical, dedicated, and detailed, and his management style empowers standardization. One of Phan's first tasks will be to lead CAPS through the process of becoming ISO certified."
International Standards were created to ensure the safety and quality of products and services, facilitate international trade, and improve the environment in which we live. To Custom Air Products and Services, conformity to International Standards is just another way to assure customers of their commitment to providing quality products and services.
"My goal as Engineering Manager is to bring industry standards into practice and add to the quality culture CAPS employs," John recently explained. "Engineering is the communication hub for all divisions within CAPS, where each piece of custom equipment is thoroughly designed to meet customer expectations."
John received his B.S. in Electrical Engineering from University of Michigan and his M.S. in Mechanical Engineering from Lawrence Technological University, Michigan. One of John's goals for CAPS is to standardize processes necessary for international growth. The fundamental standards that ISO represents allows for one goal with many solutions.
About Custom Air Products & Services, Inc.
Custom Air Products & Services, Inc. is a full-service HVAC company that specializes in the design, construction, installation, modification, and servicing of industrial and commercial, HVAC equipment. CAPS employees are committed to providing exceptional custom design and quality workmanship at competitive prices.
Custom Air Products & Services currently occupies six (6) modern facilities totaling over 250,000 square feet in size. These buildings include administrative and engineering offices, training facilities, the parts warehouse, and manufacturing. CAPS services are provided to customers throughout the United States and Mexico while their manufactured products have been delivered to sites around the world. Currently CAPS has equipment operating on 6 continents and in 52 countries.