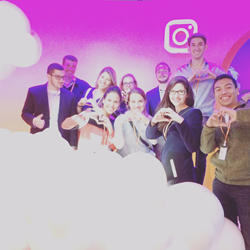 "Les Roches is opening as many doors as possible in an industry that is being shaken by technology and the digital age."
San Francisco, CA (PRWEB) November 03, 2016
In October 2016, Les Roches Global Hospitality Education's next generation of hospitality leaders, together with the school's management team, headed to Silicon Valley to spark an intricate conversation between hospitality and technology.
The three-day program comprised on-site meetings with executives of the world's leading technology companies: Google, Facebook and its Instagram division, 500 Startups, HotelTonight and ScreenMeet.
"Tech and hospitality are connected on so many levels," said Sonia Tatar, CEO Worldwide of Les Roches. "Our meetings with technology giants are yet another way for us to integrate the vast impact technology companies continue to have on the hospitality industry in our experiential learning model, the new jobs that have risen, and the multiple career opportunities for hospitality management graduates to join start-ups or launch their own enterprises. Les Roches is committed to immersing our students into the latest trends and to opening as many doors as possible in an industry that is being shaken by technology and the digital age."
"We were impressed by the questions the Les Roches students asked during their visit," said Ben Lilienthal, Founder of ScreenMeet. "Our screen-sharing technology helps people have experiences together, and that's the core function of the hotel industry. We also have in common the ethic of helping people in ways that are seamless and graceful. Our visitors from Les Roches understand this at a deep level."
About Les Roches Global Hospitality Education
Founded in 1954, Les Roches is a private institution based on the Swiss model of experiential learning, offering undergraduate and graduate degrees in the fields of hospitality, tourism and event management. Les Roches prepares entrepreneurial and innovative graduates across a global network of campuses in Switzerland, Spain, the US, China and Jordan. Les Roches is accredited at the university level by the New England Association of Schools and Colleges, Inc. (NEASC) and ranked by luxury hotel hiring managers among the top three hospitality management schools in the world for an international career (TNS Global Survey, 2013).
For more information, visit http://www.lesroches.edu