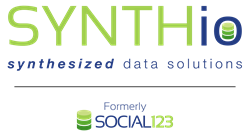 Our goal is to put the SynthCenter platform squarely in the middle of a modern marketer's stack.
(PRWEB) November 04, 2016
Social123, a global B2B Data as a Service software provider, announced today the release of the first of its kind contact data management solution under its new name, Synthio.
The new name, Synthio, is derived from the root word 'synthesis.' This name emphasizes a pivot away from merely providing data, and a focus towards empowering users with a Data as a Service platform that automates synthesizing non-standard and free-form data into clean, standardized, and impactful solutions. The company intends to bring these new capabilities to market under its new name and with its new SynthCenter platform.
"Our goal is to put the new SynthCenter platform squarely in the middle of a modern marketer's stack," said Aaron Biddar, CEO of Synthio, Inc. "As marketing and technology management converge, marketers find themselves with the new responsibility of managing increasingly large and complex datasets. Unfortunately, they are still using tools designed for a simpler, email centric, world. The new SynthCenter platform is designed to address and ease many of these pain points, and comprehensively make contact data more accurate, more standardized, and more ingestible directly into major Marketing Automation Platforms and CRM systems. With SynthCenter, users now have actionable intelligence, not just spreadsheets of contact data."
The SynthCenter platform houses a complete system providing the following data management solutions:
SynthSearch – This is an industry leading search engine to find new contacts and companies.
SynthEnrich– Append existing databases with more than 45 fields of data points.
SynthClean (New) – Merge datasets, remove duplicates, normalize titles, company names, phone numbers, and validate email addresses and URLs.
SynthConnect (New) – Connect freemail email addresses to B2B email addresses and personas.
SynthTech (New) – Identify installed technologies at a company, from their front-end web services to backend platforms.
SynthForce (New) – This is a CRM plugin for instant i-frames of contact data and news feeds on a company.
SynthCard (New) – When using the Synthio contact search engine, preview all data points on an individual through the use of a digital business card.
SynthBridge (New) –This provides seamless integrations into leading Marketing Automation Platforms and CRM systems.
The new company, Synthio, is also launching a new website to accompany the name change and product enhancements. For more information on Synthio, please visit http://www.Synthio.com.
###
Synthio is a dynamic, award winning startup situated perfectly at the intersection of marketing and technology. The world's largest enterprise marketers and sales professionals rely on Synthio to feed their funnels by harnessing the power of their real-time Data as a Service solution. From merging non-standard or free-form data into a single usable dataset, to de-duplication, standardization, strategic augmentation, or simply understanding more about your own data through a data health analysis, Synthio meets every data need of the modern marketer.
They were named on the INC 500 list of fastest growing private companies two years in a row, as well as being a Top 40 Most Innovative Company in GA, and also inducted into the Best and Brightest Companies to work for in GA.