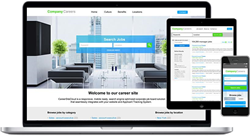 This fresh, responsive and mobile-friendly career center solution provides an enhanced candidate experience for higher application and retention rates.
Aspen, Colorado (PRWEB) November 08, 2016
To remain competitive, global employers continue to improve job advertising performance. CareerSiteCloud offers a solution to meet these challenges that is fully integrated with ATSes, job boards and job distribution partners.
Employer branding optimized for candidate interaction
CareerSiteCloud.com is a cloud-based platform for creation and management of responsive, mobile-enabled and applicant-friendly corporate career pages. It provides fully featured career centers, job ad campaign landing pages, custom application forms, mobile job sites, real time job alerts, jobs, Search Engine Optimization, optional resume database and is seamlessly integrated with employer website, ATSes and job distribution partners.
High application rate
Effective job search, job landing pages, real time job alerts and candidate-friendly application pages provide high job seeker conversion rates across all devices.
Responsive career landing pages
Platform provides simple creation for employer branded career sites, job ad campaigns, mobile job pages or custom application forms. Standalone or integrate with corporate website, partner job board or ATS.
Mobile friendly application & resume upload
Mobile optimized application page increases completed mobile application rate and reduces drop offs. Multiple resume file upload options are offered: Dropbox, GoogleDrive, Copy/Paste into txt file.
Real time job alerts and one click subscription
Job alerts are pushed to subscribers' emails immediately as new relevant jobs are posted. Simple one-click personalized job alert subscriptions are offered on both job search and job adverts pages.
Adding job alerts solution to existing ATS
Easily integrate employers' or job board candidate contacts database with CareerSiteCloud to provide effective job alerts solution.
Resumes database or 3rd party application process integration
Career solution can either store candidate applications and resumes, redirect job seekers to employer ATS or integrate job board partner application process.
Automatic & manual job posting
Jobs can be updated automatically via XML, push API or scraped from a single or multiple webpages, i.e. ATS or website listings. Employer or agency can also post jobs manually via back-end of career site.
Job distribution to job boards and aggregators
Jobs can be distributed to popular job boards and job aggregators, i.e. Indeed, ZipRecruiter, Monster.
Agencies and partners: speed and simplicity of deployment & management
New career sites and ad campaigns can be created and launched in minutes on client domains by utilizing intuitive wizards and customizable templates. Create and manage single or multiple sites, assign access to recruiters, provide application access, reporting and performance statistics, integrate with existing job board or ATS.
White label technology
CareerSiteCloud platform can be offered as a fully white labelled solution that can be utilized by job boards, ad agencies and recruiters as a seamless part of your technology pool. Power effective career sites and job ad campaigns for your corporate clients.
About CareerSiteCloud.com
CareerSiteCloud is a product of Aspen Technology Labs, Inc., a leading provider of online recruitment solutions, career sites, mobile apply interfaces, and job wrapping services.