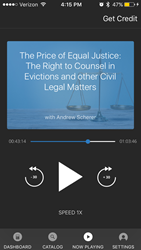 New York, NY (PRWEB) November 03, 2016
Lawline, the leading provider in online continuing legal education (CLE), unveiled their CLE mobile app today, making completing CLE easier than ever before. The new app offers easy offline access to all of Lawline's audio courses from a user's iPhone.
The app provides Lawline members with the ability to download any of their audio courses directly to their device so they can listen to courses with or without an Internet connection. The app also gives users access to a mobile-optimized catalog that allows them to find the exact courses they're looking for and instantly add them to their dashboard for on-the-go access.
Some innovative features of the app include an audio player that will save your course progress to easily continue where you left off, as well as a simple evaluation process that allows attorneys to claim CLE credit instantly.
Lawline's VP of Customer Experience, Richard Hernandez, states, "This app is a great value add for our customers, as it truly provides the ability to complete CLE offline so that attorneys can take control of their professional growth and do it on their terms."
The Lawline App is available now on devices running iOS 8 and later. The app is free and available to all Lawline members.
Download the Lawline app here: https://itunes.apple.com/us/app/lawline-cle/id1149462971?mt=8
*Please note that the Lawline App only provides access to audio courses. The following states are not available for audio CLE credit: Idaho, Iowa, Kansas, Louisiana, Mississippi, Ohio, Oklahoma, Pennsylvania, South Carolina, Virginia, District of Columbia, the Texas Board of Legal Specialization (TBLS), and the Small Business Administration (SBA).
###
About Lawline
Lawline is the leading provider of online continuing legal education offering legal intelligence to attorneys in across the country. With over 2,000,000 CLE courses completed to date, Lawline offers timely legal content that supports attorneys throughout their practice. The company is headquartered in downtown Manhattan and has received multiple awards recognizing its superior product and service. Its success has also been featured in The Wall Street Journal, Inc., Entrepreneur, & Forbes.com.
For any questions or comments about Lawline, please contact us at 877-518-0660 or support@lawline.com.