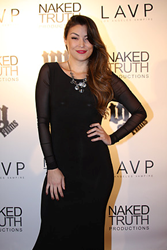 "I'm proud to be able to work on something that shows a bit of LA . This city has shaped who I am and I wouldn't be who I am today if it wasn't for the amazing people that I live with here." -Joe Tong
Hollywood, CA (PRWEB) November 03, 2016
The gripping new short film, LAVP, Los Angeles Vampire is the latest production in association with Vois You Films and Naked Truth Productions. The film is directed by Hugo Valentine and stars Joe Tong, Jessica Blanc and Frantz Delsoin.
The film recently screened in Hollywood where guests included the cast and crew of the film, members of the press, select VIPs and celebrities.
Directed by Hugo Valentine, co-written and co-produced by Joe Tong; LAVP was filmed entirely in Los Angeles, California. No stranger to the art of filmmaking, Joe Tong impresses audiences with his multifaceted arsenal of acting, writing and producing abilities. Hugo Valentine, a multi-talented filmmaker, director and editor, co-wrote and co-produced the film. LAVP made its world premier in Paris, France on June 10th, 2016.
Hugo Valentine is a French director, born and raised in the suburbs of Paris. Filmmaking is Valentine's language of love, and he is fluent in all aspects of picture, sound and show manufacturing. Valentine proudly presents his first fiction short film, shot entirely in Los Angeles- LAVP.
"LAVP is really what I love about cinema; It's amazing when something emerges totally straight out of a spontaneous creative moment. Meaning, I just met Joe, and we simply said "let's make a movie," and over the next few months, the movie was created. Everything came together so easily, so you really know that what you're doing is good." -Hugo Valentine
Joe Tong stars as the lead actor in LAVP. Based out of Los Angeles, California, Tong has developed several projects and appeared in numerous commercials, TV, and film. In addition to playing the lead, Tong co–wrote and co-produced the acclaimed 2014 short film, Naked Truth, which won the Award of Merit at the IndieFEST film awards.
"I'm proud to be able to work on something that shows a bit of LA . This city has shaped who I am and I wouldn't be who I am today if it wasn't for the amazing people that I live with here." -Joe Tong
Frantz Y. Delsoin plays a vampire in LAVP and is known for his work in projects such as An Act of Dog (2006), Ever After, Happily (2008) and Battle B-Boy (2014).
Jessica Blanc is a Korean American actor. Starring as Joe Tong's fiancé, LAVP is her debut film.
Want to watch LAVP?! Follow this link: https://vimeo.com/189850493/c5ea736cf0