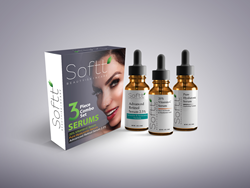 It's extremely important to us, and Nicole, to have a line of products that benefit everyone at a price anyone can afford.
(PRWEB) November 15, 2016
Softt Beauty Skin Care by Nicole Murphy is launching a three piece serum set that includes 20% Vitamin C Serum, Hyaluronic Acid Serum, and 2.5% Advanced Retinol Serum. Customers can visit the company's website now to sign up for a notification 24 hours before the product launch, as well as an exclusive coupon for additional savings.
"We've taken three of the hottest selling skin care serums and combined them into one complete kit," said Darius Jackson, CEO of Softt Beauty Skin Care. This way, the serums, usually sold as individual products, can be used in conjunction for a full skincare regimen.
The Vitamin C Serum works to clarify the complexion by evening skin tone and lightening dark spots and other imperfections. It also hydrates the skin and reduces the look of fine lines and wrinkles. Anti-aging properties are also contained within the Hyaluronic Acid Serum, which helps moisturize the skin, promoting skin elasticity, even for those with sensitive skin. The Advanced Retinol Serum is also good for sensitive skin, and prevents the buildup of dead skin cells while also encouraging healthy skin cell growth.
To accompany the release of the set, Softt is planning an official launch party. Top beauty and skin care bloggers from LA are all invited to attend. If interested, please contact Darius Jackson at 800-290-5085 for more information.
About Softt Beauty Skin Care
Softt Beauty Skin Care is committed to providing the healthiest, most beautiful complexion possible through simple, high-quality products that enhance the health and appearance of the skin. Instead of long lists of unnecessary ingredients, Softt Beauty Skin Care only includes the most effective active ingredients and delivery systems to ensure the potency and efficiency of their products and, in turn, the dermatologic results. All products are made of all-natural, paraben-free ingredients sourced right in the USA and contain no fillers, synthetic dyes, or artificial fragrances. No products are tested on animals and are manufactured to be environmentally friendly.
About Nicole Murphy
Nicole Murphy began modeling at the age of 13. She won an international modeling contest and was then signed to Ford Modeling Agency, and subsequently to top Paris agencies, all within a year. Afterwards, she spent seven years in Europe modeling for some of the top design houses in the world. Now retired, the former wife of Eddie Murphy is currently filming a new reality TV show produced by Kris Jenner. "The Murphy Girls" will focus on Nicole and her two oldest daughters, letting viewers see firsthand their day-to-day activities.
Press Contact
Darius Jackson
CEO, Softt Beauty Skin Care
800-290-5085