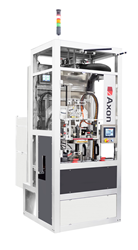 RALEIGH, NC (PRWEB) November 03, 2016
Axon, powered by Pro Mach, introduces three new shrink sleeve and tamper evident machines and a compact energy efficient steam tunnel at Pack Expo in Chicago, November 6-9. Each new machine delivers performance, reliability, flexibility, and easy use. These product introductions are the latest in a series of technology innovations begun two years ago as strategic initiatives to take shrink sleeve and tamper evident technology to new levels of productivity. (Axon Pack Expo Booth S-3714)
The new high speed SLX platform with thin-gauge film capability
The new SLX full body sleeve and tamper evident applicator, built to PackML standards, is designed specifically for high speed production. The SLX applicator features the new Rockwell CompactLogix 5380 PLC, a Rockwell 5500 HMI, and five different servo motors. The SLX also has a new patent-pending high-precision SLT film-delivery system, with an improved web tension system for superior film control, and a new digital-format monitoring system for quick, error-free changeover. The SLX is capable of handling film thicknesses from 25 to 70 microns. At Pack Expo, the SLX will demonstrate full-body sleeve application at production speeds greater than 800 bottles per minute utilizing 30-micron film. The SLX will also feature Axon's optional full machine lighting system that enhances operator productivity and further reduces downtime.
Axon EZ-150SL – speed and affordability
The new Axon EZ-150SL offers exceptional value for those looking for a rugged, dependable sleeve applicator capable of speeds up to 150 bottles per minute. This applicator is ideal for those new to automation, such as craft breweries, or labeling operations looking to step-up to a higher level of production. With its color touchscreen HMI, the EZ-150SL is simple to operate. With a robust, stable stainless steel frame and servo-controlled film feeding and cutting system, it will perform in tough production environments. Stainless steel and servo systems are features typically only available on much higher priced machines.
Axon EX-200He optimized for frequent changeovers
The new EZ-200He is an updated version of Axon's popular EZ-200 applicator, with a new energy-efficient electronic actuator designed to reduce changeover time and energy consumption. The EX-200He is easy to use and maintain. System settings for each application format, for example, are stored as recipes and are quickly accessible via a color touch screen HMI. Single head models apply up to 70 sleeves per minute, while two head units double the output to up to 140 sleeves. Like the EZ-150SL, the EZ-200He includes features normally only found on much higher priced machines.
The ThermoFlow compact and energy efficient shrink tunnel
The ThermoFlow is a new compact, self-contained shrink system that features a 15-PSI low pressure steam generator and condensate collection system. The ThermoFlow easily adjusts the amount of steam appropriate for the size of container to minimize energy consumption, and it offers quick tool-less changeovers for maximizing throughput. The cantilevered design of the ThermoFlow provides easy access to tunnel components for trouble-free installation and maintenance. ThermoFlow is built for years of service with a rugged frame and stainless steel construction.
"When we say Axon EZ, the 'easy' alludes to everything our design engineers do to make Axon solutions more productive, intuitive, and flexible," said Bob Williams, Vice President and General Manager, Axon. "Having four new machines of this caliber at Pack Expo is a real milestone, and we do not intend to slow down."
For more information about Axon's comprehensive, fully automated, high speed shrink-sleeve labeling, tamper-evident banding, and stretch-sleeving equipment, call 1-800-598-8601 or visit http://www.AxonCorp.com. Be sure to stop by the Axon Pack Expo Booth S-3714 to see the company's latest solutions.
About Axon
Axon is a leading manufacturer of fully automated, heat-shrink labeling, tamper-evident banding, and stretch-sleeving equipment. With more than 30 years experience delivering products and solutions that are affordable, reliable, versatile, and easy to use, Axon sets the standard for technology development and customer value within the industries it serves. Visit Axon at http://www.AxonCorp.com.
About Pro Mach
Pro Mach is a leading provider of integrated packaging and processing products and solutions for food, beverage, consumer goods, pharmaceutical, and other diverse companies. Through multiple brands, Pro Mach provides product packaging and processing equipment, PMMI certified trainers, installation, parts, and service in Bottling & Capping, Primary Packaging, Pharmaceutical Packaging, Flexible Packaging, Material Handling, Labeling & Coding, and End of Line, as well as Integrated Solutions for complete packaging lines.
Pro Mach has a diverse customer base, from Fortune 500 companies to smaller, privately held businesses worldwide, which depend on reliable, flexible, technologically advanced equipment and integrated solutions. Pro Mach is headquartered near Cincinnati, Ohio, with manufacturing facilities and offices throughout the United States, Canada, Mexico, Europe, United Arab Emirates, and China. For more information about Pro Mach, please visit http://www.ProMachInc.com.