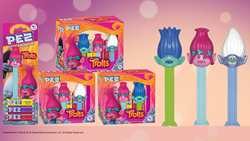 "We are excited to collaborate with DreamWorks to bring this exceptionally fun property to the PEZ line."
(PRWEB) November 03, 2016
PEZ Candy, Inc., in collaboration with DreamWorks Animation, announced the newest addition to the PEZ Candy line of products with the introduction of DreamWorks' Trolls PEZ dispensers. PEZ is now shipping the new line to stores ahead of the upcoming U.S. theatrical release.
From the creators of Shrek comes the most smart, funny and irreverent animated comedy of the year, DreamWorks' Trolls. This holiday season, enter a colorful, wondrous world populated by hilariously unforgettable characters and discover the story of the overly optimistic Trolls, with a constant song on their lips, and the comically pessimistic Bergens, who are only happy when they have trolls in their stomach. PEZ will offer DreamWorks' Trolls in an everyday assortment to include characters Poppy, Branch and Guy Diamond. In addition two and three-pack gift sets will be available with dispensers on mini-stems. "We are excited to collaborate with DreamWorks to bring this exceptionally fun property to the PEZ line." stated Christian Jegen, CEO/President of PEZ Candy, Inc.
About PEZ Candy, Inc:
Based in Orange, CT, PEZ has been inspiring and innovating since 1927, PEZ Candy, Inc. is the pioneer of "interactive candy" that is both enjoyable to eat and fun to play with. PEZ dispensers are a hot collectable for adults and children alike and have been a staple of American pop culture for over 50 years.
To learn more, visit pez.com.