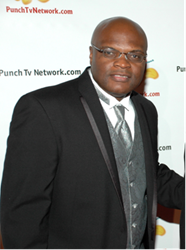 Hosting our radio show is an opportunity for me to speak directly with our audience.
Hollywood, CA (PRWEB) November 02, 2016
Punch TV Studios, the rapidly-growing studios which recently announced it's Initial Public Offering at $1.00 per share, has just embarked on yet another exciting expansion. This time, Punch TV Studios brings the best that television has to offer – to radio.
Changing The Conversation with Punch TV Studios, the aptly-named new radio program, is set to be a study on Punch TV Studios' trailblazing productions, pioneering IPO opening, and the sensational cultural effect that Punch TV Studios' has had in modern television.
Mr. Joseph Collins, Punch TV Studios CEO, known for his groundbreaking approach to conducting business, has decided to connect with Punch TV Studios' audience in a way few CEOs of media companies have done before: by hosting the radio show himself.
Of his new role, Mr. Collins said: "Punch TV Studios likes to keep our finger on the pulse of the community. We owe our success to the community. This is an opportunity for me to speak directly with our audience."
Punch TV Studios radio show will provide commentary and behind-the-scenes trivia on Punch TV Studios' popular productions, such as Black Dawn, I Am Homeless and The Hollywood Punch Report.. Additionally, Changing The Conversation will include ingenious tips on how to break into acting, directing film and television productions, as well as insights into Punch TV Studios' efforts to help make independent artists' dreams a reality.
The company's IPO will also be a key feature of each broadcast, as Mr. Collins will discuss at length his decision to set Punch TV Studios' stock price to $1.00 per share, demonstrating how this unprecedented move will bolster the company's undeniable strength, through giving its audience the opportunity to gain partial ownership of Punch TV Studios themselves.
Tune in on the Punch TV Studios website every Monday through Friday beginning November 7th at 6 PM PST. Take part in the conversation by dialing (657) 383-1974. Check out Mr. Collins's inspiring vlogs, and follow along as he makes his journey around the country, bringing Punch TV Studios to affiliate stations near you.
About Punch TV Studios
The brainchild of entertainment maven Joseph Collins, Punch TV Studios is the sole TV production company catering to the African-American, English speaking Hispanic and American urban communities. Overseeing the operations of independent, company-owned divisions, Punch TV offers its unique content digitally on-demand, successfully filling in the creative gap left in the market by major studio networks.