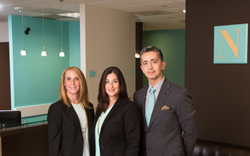 Chevy Chase, MD; Herndon, VA (PRWEB) November 03, 2016
Double Board Certified Facial Plastic & Reconstructive Surgeon Dr. Shervin Naderi of Washington, D.C. has recently expanded his menu of non-surgical facial fillers to include Juvederm Volbella®. Volbella® is the brand new injectable filler with the incredible ability to restore lip fullness and define lip borders with soft, natural results that last.
Dr. Shervin Naderi is a prominent facial plastic surgeon in the Washington, D.C. area who now offers Juvederm Volbella® injections as the latest dermal lip product designed for gentle restoration of natural-looking lip volume and defining lip contours. Similar to other Juvederm fillers, Volbella® harnesses Allergan's revolutionary Vycross™ technology, allowing the lips to be beautifully enhanced while remaining soft and natural looking.
Juvederm Volbella® contains a smooth injectable gel formulated with a hyaluronic acid (HA) base, which can boost volume and fullness to the injected lip area. It's effective for those patients with wrinkles or fine lines around the mouth. Volbella® can create a smooth and symmetrical achievement. The injectable treatment also highlights the border of the lips, plumps them up for added fullness and enhances the "cupid's bow." It also includes the special anesthetic lidocaine to protect the patient's comfort during the treatment.
Volbella® is outstanding in its ability to provide more natural results with greater longevity than lip fillers currently on the market. It's unique from the rest because Volbella® blends different molecular weights of hyaluronic acid.
Best of all, most patients can expect to maintain their Volbella® treatment results for up to one year.
"We are excited to offer Juvederm Volbella® treatments and give our Chevy Chase, Herndon, and D.C. area patients the opportunity to regain full, youthful, sensual, natural-looking lips using the latest injectable filler technology available," Dr. Naderi says.
More about Dr. Shervin Naderi:
Dr. Shervin Naderi is an internationally recognized double board certified facial plastic and reconstructive surgeon practicing in the Washington, D.C. area. He holds the distinction of being the very first facial plastic surgeon within all of Loudoun County, VA. His expertise lies in both the face and neck areas with particular emphasis on the nose. Dr. Naderi has a stellar reputation in his field and considered a man of integrity and great skill. He is also a published author and a Board Examiner for the American Board of Facial Plastic & Reconstructive Surgery. Dr. Naderi is also well-known as a clinical associate professor at Indiana University School of Medicine where he instructs residents in modern techniques of facial plastic surgery. He is, in addition, a guest lecturer at George Washington University School of Medicine Department of Surgery.
For more information on Juvederm Volbella® treatments offered by Dr. Naderi, Dr. Anderson, or Dr. Kulak visit http://www.nadericenter.com or contact offices in either Chevy Chase at (301) 222-2020 or Herndon at (703) 481-0002.