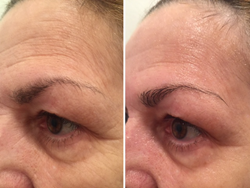 CooLifting is a miracle treatment. Look years younger in just 5 minutes!
Boston, MA (PRWEB) November 04, 2016
Unique Verve, located at 105 Newbury Street in Boston's Back Bay, prides itself on providing the best skincare treatments to clients in Boston and beyond. Owner and lead esthetician Natalie Maibenko brings 14 years of experience to her holistic, care-based approach, seeking out the newest and most innovative—yet safe and effective—skincare technologies on the market.
She and her team analyze every decision with the following in mind: Can we feel good about using this product on our clients? Will our clients look and feel better after this treatment? The answer to both must be yes.
Now in its 10th year in business, Unique Verve introduces CooLifting, a cutting edge anti-aging procedure developed in Spain. Already very successful across Europe and only just released in the United States, CooLifting uses CO2 therapy to deliver powerful, and immediate, results to the face or neck, and décolletage. By combining cold CO2 with a proprietary hyaluronate facial solution, and applied with a painless high pressure gun, CooLifting challenges passing time, producing in less than 15 minutes a more radiant facial appearance, promoting hydration, and reducing fine lines, without damaging skin cells. With continued treatments and at-home maintenance, patients see long-lasting effects—without injectables or surgery.
"I'm always searching for new, non-invasive ways to help my clients while standing by my skincare philosophy," says Maibenko. "CooLifting fits into my vision and upholds my principles: repair, correct, rejuvenate and preserve, while maintaining the skin's barrier function at all times." In just 5 minutes, clients can look years younger. "In my opinion it will be one of the most popular, if not the most popular, non-invasive rejuvenating facial treatment I offer," she adds.
Unique Verve is the first spa in the city of Boston to offer CooLifting as part of its facial menu. CooLifting is available as a stand-alone service or can be added to any Unique Verve facial.
About Unique Verve: In 2007, Natalie Maibenko launched Unique Verve, with the purpose of bringing clients the safest, and most effective, skincare available. She takes a scientific and holistic approach, assembling a menu of treatments based on knowledge, cutting edge technologies (including exclusive work with the Environ line of products), genuine care, and exceptional service. She and her team have extensive experience in treating all skin types and concerns including acne, rosacea, premature aging, pigmentation, age and sun spots, and skin tags. Her work has been recognized by beauty editors at InStyle (Best Facialist), Allure (Best of Beauty), The Improper Bostonian, Boston magazine, among others, and her introductory corrective and results-oriented facial is a multiple award winner for Best Facial in Boston. For additional information, please visit uniqueverve.com or follow Unique Verve on Facebook and Twitter.
MEDIA CONTACT
For additional information about Unique Verve please contact:
Natalie Maibenko | Unique Verve | 617-595-2510| info(at)uniqueverve(dot)com