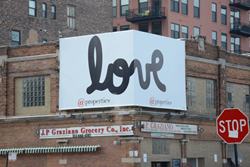 With these ads, our goal is to remind people to be present, to embrace opportunities for love and laughter, and to enjoy every moment as much as possible
CHICAGO (PRWEB) November 08, 2016
Chicago-based @properties, the largest independent real estate brokerage firm in Illinois, recently won two 2016 MarCom Awards for advertising. The firm won a platinum MarCom Award for its "Rules For Better Living" print campaign and also received honorable mention for its "Love" outdoor advertising campaign.
The MarCom Awards recognize outstanding achievement by creative professionals involved in the concept, direction, design and production of marketing and communication materials and programs. Winners are selected from print, web, video and strategic communications categories. @properties' ads were among 6,000 entries worldwide.
@properties' "Rules For Better Living" campaign includes a series of ads featuring black and white photos of people in humorous situations, with encouraging headlines such as, "Eat well, laugh often, love much," and "To achieve something you've never had before, you must do something you've never done before."
"As a local company, @properties is all about bringing people together and strengthening our communities and neighborhoods," said Thaddeus Wong, @properties' co-founder and the architect of the firm's marketing programs. "With these ads, our goal is to remind people to be present, to embrace opportunities for love and laughter, and to enjoy every moment as much as possible."
The Love campaign is a collaboration between @properties and Matthew Hoffman, a Chicago-based artist and designer whose public works have been exhibited internationally. The project was inspired by @properties' tagline "love where you're @", and features Hoffman's trademark lowercase script font.
MarCom is one of the oldest, largest and most prestigious creative competitions in the world. MarCom is sponsored and judged by the Association of Marketing and Communication Professionals (AMCP), a 22-year-old international organization consisting of several thousand creative professionals. A list of award winners can be viewed at http://www.marcomawards.com.
About @properties
Established in 2000, @properties is the No. 1 real estate brokerage firm in the city of Chicago, the largest independent residential brokerage firm in Illinois and one of the top 11 residential brokerage firms in the U.S. @properties has more than 2,000 licensed brokers in 23 offices throughout downtown Chicago, surrounding suburbs, southwest Michigan and southeast Wisconsin. For more information, visit http://www.atproperties.com.