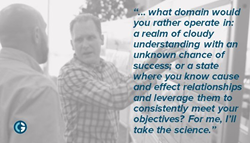 He literally wrote the book on Six Sigma.
Alpine, Utah (PRWEB) November 08, 2016
Purple, Inc. (https://onpurple.com/) a comfort company known for its No-Pressure™ Mattress, today appointed Craig Gygi as Chief Operating Officer (COO). Gygi will lead the company's operations as it expands worldwide.
This addition comes after Purple has experienced tremendous growth in its first year. Since January, the company has sold tens of thousands of mattresses, added 300 jobs, and is expanding into a 574,000 square-foot manufacturing building. It recently funded $2.6 million on Kickstarter for its new pillow.
"Purple solves pain. It's why we exist," Bernards said. "We're on a mission to bring our comfort technology to billions of people across the world and so improve their quality of life. The scope of that vision, together with the incredible customer demand for Purple's products, presents us a remarkable opportunity. We're grateful for the brilliance, foundation and trajectory Terry Pearce has created. Craig's job — and what he's ideally suited fo — is to now enable Purple to meet that opportunity and to pursue our vision."
Gygi comes to Purple with more than two decades of operations, manufacturing, design, and engineering experience. He's held senior executive positions at MasterControl, ES3 Aerospace, and Fiji Water. His operations consulting firm has helped executive and operations teams at Medtronic, 3form, American Express, US Synthetic, Software AG, the Utah Governor's Office of Management & Budget, and many others transform their operations into a strategic advantage. Gygi is also an internationally recognized expert and author in the area of continuous operations improvement.
"He literally wrote the book on Six Sigma," Bernards said of Gygi, who was a co-author of "Six Sigma For Dummies."
"World-class operations will be an integral pillar in Purple's success," Gygi said. "How we work, how we operate originates from our vision — and then it ultimately determines the value our customers receive, our revenue and sustainable profitability, and our employee engagement and happiness. I'm looking forward to working with the Purple team and to the results ahead."
Gygi began his career as an advanced manufacturing researcher and as a product design engineer after receiving both graduate and undergraduate degrees in Mechanical Engineering from Brigham Young University.
About Purple
After 20 years of creating and licensing comfort products, Tony and Terry Pearce launched Purple (onpurple.com) in January 2016. The founders have been granted 34 patents in the advanced cushioning arena. Sixteen patents and pending patents were used in creating the World's First No Pressure™ Mattress and future products. Purple has quickly become a leader in sleep and comfort technology. Its products change lives through dramatic improvements to the quality of sleeping, sitting and standing.