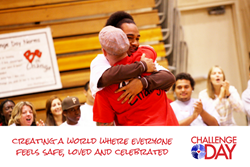 It changed my life forever!
Concord, CA (PRWEB) November 03, 2016
Imagine a school where everyone feels safe, loved and celebrated. Imagine enemies finding common ground and making peace; friends healing past hurts and making amends; people igniting their passion for service and leadership; adults and youth working together to create a school where everyone is included and thrives. This is the work of Challenge Day.
Kicking off their 30th Anniversary Celebration, Challenge Day is giving back. Schools can apply to win a free Challenge Day program during their 30th Anniversary Video Challenge by submitting a video application.
Every 7 minutes, a child is bullied. Those who are bullied often suffer from anxiety, depression, low self-esteem, and poor concentration. Teens also face violence, emotional trauma, and social isolation during a time in their life when emotions and social relationships can be incredibly rocky. The life of a teenager can be difficult when they're not given tools to handle all these pressures. Many see suicide or violence as their only way out.
A path breaking study showed that when humans lack social connection, the impact on their health is worse than obesity, smoking, and blood pressure. It can be especially detrimental for teenagers to experience that kind of health trauma at such a young age.
Challenge Day offers a solution. When youth feel like they belong and feel connected to other teens and adults, they have higher self-esteem, stronger emotional regulation, lower anxiety, and better emotional and physical health. When their emotional and social needs are met, their grades can go up and their overall life satisfaction improves.
The Challenge Day Program is a day-long workshop that goes into middle and high schools across the country to discover what can happen when students peel back their public personas, break out of their cliques and show their peers who they really are. Through trademarked exercises made famous on MTV's "If You Really Knew Me" and "Cross The Line," students experience what it's like as the walls that divide them collapse and they see each other for who they really are – beneath the surface and behind the labels. Combining energetic games, music, and dancing with authentic, real conversations about the impacts of teasing, bullying, racism and other forms of violence, the experience unites students in a common commitment to be the change in their school. More than just an anti-bullying workshop – Challenge Day is designed to inspire a school-wide movement of compassion and positive change. In 30 years, they've reached 1.5 million people in 2200 schools; it's one of the most successful and longest running Social and Emotional Learning programs in the world.
"There are many programs available which tell kids how and why bullying hurts. The genius of Challenge Day is the simple way in which the activities show kids that lesson. The students see others who have experienced many of the same obstacles they have faced. They see peers who experienced even greater challenges." – Dwayne Newman, Superintendent, Colusa Unified School District, Colusa, California
Schools - Apply Here
What Is Challenge Day?
Pay It Forward – Be The Change
In celebration of their 30th year, Challenge Day is raising the funds needed to sponsor a minimum of 10,000 additional students by the end of 2017. Challenge Day is inviting you to BE THE CHANGE to help make dreams come true for the students and the schools. By joining their effort, you have the power to change the lives of young people.
"The most powerful and emotionally moving program I have ever been a part of. No assembly, lecture, or class could ever possibly teach as much as this program did about self-worth, compassion, and empathy for your fellow humans. I only wish my son had been able to participate in a program like this, he might still be with us today if he had." – Jason Winebarger, Parent
Will you help make these dreams come true? "Yes! How can I help?"
Here are a few options:
(1) Donate $30 to fund a student
(2) Share this on social media
(3) Ask other people to donate $30
(4) Donate $30 a month to fund a student every month
(5) Join the fundraising team and watch the miracles happen
(6) Businesses: sponsor 100 students and help shift the school culture to a more inclusive one
(7) Volunteer to experience the direct impact your gift makes
Donate
Help make these dreams come true
Watch School Applications
Volunteer
About Challenge Day
Challenge Day is a 501(c)(3) nonprofit organization that helps people learn to connect through powerful, life-changing programs that transform through compassion, in schools, businesses, communities and families. Challenge Day is also the name of the signature school program. Using highly interactive and energetic activities, their programs provide teens and adults with tools to break down the walls of separation and isolation and replace them with compassion. Challenge Day has been featured twice on Oprah, in the 2010 Tom Brokaw documentary called Bridging the Divide, and in the 12-episode MTV series If You Really Knew Me in 2010. The Dutch documentary, Over de Streep (Cross the Line) aired for four seasons.
Challenge Day strives to inspire people to live, study, and work in an environment of acceptance, love, and respect. They stand for a world where everyone feels safe, loved and celebrated. Challenge Day was co-founded in 1987 by Rich and Yvonne St. John-Dutra, M.A., MFT. For nearly 30 years, Challenge Day has provided programs to over 1.5 million youth and adults in 2,200 schools around the world.
Learn more about their programs for schools, businesses, communities, families, couples, and individuals:
http://www.challengeday.org