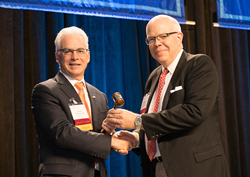 Philadelphia, PA (PRWEB) November 03, 2016
RatnerPrestia is pleased to announce the accomplishments of three Shareholders making headlines in the American Intellectual Property Law Association (AIPLA) and Licensing Executives Society (LES) circuits.
Jacques L. Etkowicz has been elected to a three-year term on the Board of Directors for AIPLA. Prior to being elected to the Board, Mr. Etkowicz served as Chair of the Professional Programs Committee, the Electronic and Computer Law Committee, and the 2017 Mid-Winter Institute Planning Committee.
Kenneth N. Nigon received the President's Outstanding Service Award. It is earned by recipients that provide outstanding service in fostering the mission and goals of AIPLA. This award recognizes those who demonstrate excellence by making an exceptional contribution to AIPLA, particularly in furtherance of AIPLA's goals, including advocacy, service, education, and growth.
AIPLA is a premier professional organization for intellectual property attorneys nationwide and around the world, with approximately 14,000 members in private practice, government service, and academia. AIPLA takes an active role in shaping domestic and international Intellectual Property policy in large part through its education and advocacy programs.
As previously reported, Brian P. O'Shaughnessy was elected President and Chairman of the Board of the Licensing Executives Society (USA & Canada), Inc. (LES). The election was held at the Society's Business Meeting of the LES Annual Meeting, Vancouver, B.C., October 24, 2016. Brian has served on the LES Board of Trustees since 2007, and on its Executive Committee since 2011. Brian has previously served as LES Regional Vice President, U.S.A., where he was responsible for the Society's public policy work, addressing matters before the legislative, judicial, and executive branches. In other leadership roles, Brian has served as Trustee for Education, Trustee for Committees, LES 2013 Annual Meeting Committee Chair, and on the LES IP100 Planning Committee.
LES is a welcoming business community that empowers, connects, and celebrates IP professionals through: Education, Best Practices, Networking, Participation and Mentoring.
RatnerPrestia is a law firm expert in all things IP. The Firm handles procurement, enforcement, licensing, commercialization, global strategic IP planning, and all related business aspects of IP. The Firm has attorneys experienced and successful in all relevant U.S. and German agencies and tribunals, including the U.S. Patent and Trademark Office, The German Patent Office, The European Patent Office, The U.S. International Trade Commission, and Federal Courts, both trial and appellate, in both the U.S. and Germany. With clients based around the world, RP understands that IP is global.