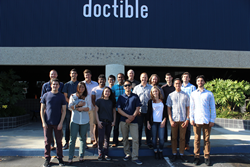 Doctible has grown tremendously in the past 6 months and this is validated by our rapid adoption by hundreds of practices across 34 states
San Diego, CA (PRWEB) November 03, 2016
Doctible, a SaaS based Healthcare marketing and automation platform, has closed its $2 million seed round and launched version 2.0 of its product suite. Bootstrap Incubation, a healthcare fund founded by Jean Balgrosky, the former CIO from Scripps Health lead the round with participation from Tech Coast Angels and former employees from Apple, Facebook and Google.
The company is launching the next version of its product expanding the solution suite to help healthcare providers increase patient engagement and automate back-office workflows. "We noticed that not only were practices looking for better tools for patient engagement but they really lacked the technology to successfully grow their business in today's highly competitive and rapidly changing environment. Posting articles on social media or relying on word-of-mouth referrals is no longer enough to separate yourself from your competition", says Ajit Viswanathan, CEO of Doctible.
"Our platform provides multiple tools for the practices, including: patient sentiment analysis, in addition to new solutions for optimized referral management, integrated scheduling and cancelation automation that are tightly integrated with the practice management system".
Since launching out of beta early this year, Doctible has added hundreds of healthcare practices and two large health systems across 34 states. The platform is integrated with the major Practice Management Systems and EHRs in the industry, thereby ensuring a seamless workflow for a practice. The new funding will be used to expand its sales and product team to meet the demands of larger group practices.
"In today's world, offering a simple, easy to use technology solution is essential to engage with Gen X, Y and millennial patients. We have built out platform on a solid foundation that is expandable to virtually every specialty in healthcare", said Leon Hu, CTO of Doctible.
Viswanathan continues, "We are thankful to our investors and customers for enabling us to grow beyond the first version of the platform. We are aggressively moving to supercharge our sales and product teams. It feels like we are just getting started."