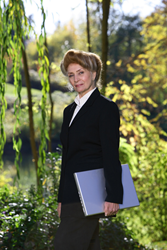 Grants Pass, OR (PRWEB) November 03, 2016
Sharon Kleyne, international Water Life Science® advocate and founder of Bio-Logic Aqua® Research Water Life Science®, recently announced an all-out assault on Dry Eye Disease, which affects billions worldwide, costs hundreds of millions and can lead to total blindness. "Dry eye disease is the number one target for our research center at Bio-Logic Aqua® Research Water Life Science®," said Kleyne, "and we're going to get after it with everything we've got."
According to a 2014 National Health Interview Survey (NHIS) Preliminary Report, an estimated 22.5 million adult Americans (or nearly 10% of all adult Americans) reported they either "have trouble" seeing, even when wearing glasses or contact lenses, or that they are blind or unable to see at all. 22.5 million…that is an astonishing number and it grows every day. Catching and supplementing eyes at the dry eye stage would spare millions the affliction of blindness.
Dry eye disease occurs when the eye's tear film (or lens) dries out. This evaporation can occur as a result of pollution, stress, lack of sleep, too much time in front of computers and TVs, allergies and other illnesses. This is serious because the eye's tear film is 99% water. Saline solutions and eye drops trap moisture but do not replenish moisture that is already lost. Sufferers of dry eye disease need to supplement their eyes with a product that will vanquish dryness and restore itching, tired and blurry eyes to health.
Sharon Kleyne, globally respected and admired by scientists, doctors and researchers for her work in water vapor evaporation and supplementation of the body's water vapor, has single-mindedly carried the torch of water research and new technology since the 1980s when she launched her first product, Nature's Mist® Face of the Water® for dehydrated skin, followed by Bio-Logic Aqua® Research Water Life Science®'s signature product, Nature's Tears® EyeMist® for dry, dehydrated eyes. "They are still the only Trade Secret tissue culture grade water products to treat over-evaporation and dry eye disease on the planet," said Kleyne.
A unique remedy for dry eye disease, Nature's Tears EyeMist, applied to the eyes by a personal hand-held humidifying device emitting a pure, pH balanced, 100% water micron mist for dry eyes, is endorsed by more than 22,000 ophthalmologists and optometrists nationwide and was successfully market-tested in more than 70,000 outlets.
"It won't do to act like ostriches with our heads stuck in the sand," said Sharon Kleyne. She added that through her Voice of America nationally syndicated radio show, The Sharon Kleyne Hour Power of Water, Global Climate Change and Your Health, she intends to ramp up efforts to educate people around the world about the perils and causes of dry eye disease. "We won't rest," said Kleyne, "until every dry eye on the planet is regularly supplemented with tissue culture grade water. Dry eye disease disappears with the eye's tear film has adequate moisture."