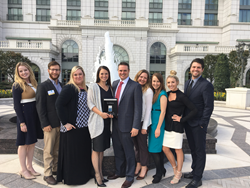 What started as a 'mom job' to supplement our family's income eight years ago during the Great Recession turned into an amazing company of highly skilled professionals dedicated to providing superior content,"
Provo, UT (PRWEB) November 03, 2016
Osmond Marketing has been recognized as one of the fastest growing businesses by MountainWest Capital Network in the 22nd annual Utah 100 Awards Program. Osmond Marketing was one of 100 businesses selected from thousands of eligible applicants from throughout the state and across all industries of business and finished 28th overall. The recipients of the award were chosen based on percentage revenue increase between 2011 and 2015.
Osmond Marketing is a full-service marketing agency founded by Dr. Amy Osmond Cook in 2011. The services Osmond Marketing provides include public relations, content production, design, and web services for businesses and organizations of all sizes and across various industries. Between 2011 and 2015, the marketing agency saw nearly 800 percent growth in revenue.
"What started as a 'mom job' to supplement our family's income eight years ago during the Great Recession turned into an amazing company of highly skilled professionals dedicated to providing superior content," Cook said. "I am surprised, grateful, and thrilled about the growth our company has experienced. We are on track for similar growth in 2016 and are dedicated to becoming the premier content provider in Utah."
"Utah remains one of the best economic and entrepreneurial states in the country. With its dynamic economy and long-term stability that invites strong companies, the state has an ample number of businesses that demonstrate incredible growth," said Paul Skeen, Chairman of the MWCN Utah 100 committee. "It is a pleasure to recognize each of the Utah 100 and acknowledge their success, progression and foresight."
The Utah 100 Awards Program was held Tuesday, October 18, in the Grand America Hotel in downtown Salt Lake City and was hosted by MountainWest Capital Networks. More information about the awards ceremony can be found by visiting http://www.mwcn.org/.