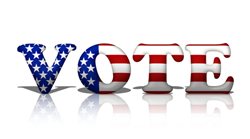 (PRWEB) November 03, 2016
Tellwut has been surveying its members weekly in the lead up to the November 8th, 2016 US Presidential Election and has seen in a snapshot of its most recent online survey poll of November 1st and 2nd that the tide is turning away from the gain that Hillary Clinton was enjoying after the Presidential Debates and the release of the video clip from 2005 in which Trump is seen making lewd comments. Tellwut's online survey also found that the percentage of undecided voters has dropped considerably from 15% to only 7% as undecided voters hone in on a decision as the election draws nearer. Even the percentage of those with no plans to vote dropped from 11% down to 7% from results reported in Tellwut's October 17th's election pulse results.
The election has been classified as one of the nastiest in history, evidenced by many Tellwutter's passionate dislike for the Presidential candidates. Comments rage against each candidate with one Tellwutter saying against Trump "…Trump has been running for POTUS since June, 2016 with a slogan of 'Make America Great Again.' When will we actually hear this plan, where are his tax returns, and where are the criminal charges for using the Trump Foundation as his personal slush fund? Maybe one of his deplorables can explain that for us, because his surrogates sure can't," while another Tellwutter says against Clinton "Why would you want to elect someone under FBI investigation to the highest office in the land? She is brazenly corrupt, incredibly arrogant and a proven serial liar. I'm voting to preserve the sovereignty of our great nation, to bring some dignity back to the presidency, and some integrity back to Washington." Along with mud slinging, there is also considerable discussion with respect to fear mongering overtones in this US election as one Tellwutter says "As entertaining as this election has been, I'm scared for our country's future."
No matter who is the winner of the upcoming US Presidential Election November 8th, one can most definitely predict that whichever candidate does not win the election will not go quietly.
About Tellwut®
Tellwut is a North American community of individuals dedicated to expressing their opinions through online surveys based upon a wide variety of topics in exchange for rewards and the Tellwut community experience. The Tellwut community and proprietary survey and reward software application provide a platform for organizations to send surveys to their stakeholders or to crowdsource and conduct online market research quickly and at a competitive price point through the use of the Tellwut survey platform and the Tellwut Community; thus allowing businesses a clearer understanding and insight into their products or services, customer attitudes and potential business opportunities.