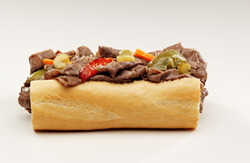 "We're thrilled to partner with the 2016 World Champion Chicago Cubs," says Joe Buonavolanto, second-generation owner.
CHICAGO, Ill. (PRWEB) November 03, 2016
Congratulations Chicago Cubs! Buona restaurants, purveyors of Chicago's original Italian beef and proud partner of the World Champion Chicago Cubs, is celebrating the end of Chicago's 108-year championship drought the by giving away free 7" beef sandwiches to the first 108 dine-in customers who show up at EACH of its 17 locations starting at 10:30 a.m. on Thursday, November 3, 2016.
"We're thrilled to partner with the 2016 World Champion Chicago Cubs," says Joe Buonavolanto, second-generation owner.
Diners will enjoy over 1,800 free Italian beef sandwiches at any of the 17 Chicagoland locations. Guests must mention offer upon ordering.
Opening his first restaurant in 1981, the Buonavolanto family patriarch, Joe Sr., was among a group of Italian immigrants who made the Italian beef sandwich a staple of Chicago's culinary scene. The restaurant's menu and the restaurant design have evolved over the years to include a variety of scratch-made sandwiches, salads with all-natural dressings and more. The menu also features gluten free options and a 'Skip the Gym' menu of reduced calorie items.
For more information or to find the nearest location, visit buona.com.
About Buona Restaurants
The first Buona restaurant began serving Chicago's original Italian beef in Berwyn, IL in 1981. Founded by Buonavolanto patriarch Joe Buonavolanto, Sr., the chain has expanded to seventeen locations while remaining family-owned and furthering a legacy that is equal parts family values, innovation, and adaptation. The group is defining the next-generation beef stand as a place that is the perfect blend of old-school indulgence in Chicago classics and next generation menu choices - made with a focus on fresh, scratch-made food. While the menu has expanded, the original beef recipe has not been compromised - for the three generations of Buonavolantos who are active in the company, comprise and quality are never uttered in the same breath.
Buona is the Official Beef of the Chicago Cubs and is proudly served at Wrigley and U.S. Cellular fields. The restaurant's iconic sandwich is one of Steve Dolinsky's Top Italian Beefs in Chicagoland and USA TODAY's 10Best Italian Beef in Illinois. For more information, visit Buona online at http://www.buona.com, like on Facebook or follow on Twitter or Instagram.