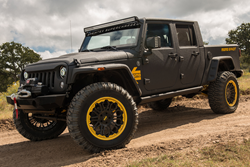 "With Jeep hinting at the possibility of releasing a pickup truck, Starwood wanted to showcase their take on what a Jeep pickup truck would look like, tricked out of course," says Scott Wi
Dallas, TX (PRWEB) November 03, 2016
Starwood Motors®, a foremost leader in custom Jeep wrangler and truck conversions, is showcasing groundbreaking expertise in off-road engineering at the 2016 Specialty Equipment Market Association Show (SEMA), November 1-4, 2016. The Starwood team is back in action this year after a hugely successful 2015 which saw its award-winning SEMA Edition custom Jeeps once again proving to be the game changer that industry insiders anticipated.
Starwood Motors' latest creation, MOMO Bandit, a Jeep Wrangler transformed into a pickup truck with the Starwood Customs "Bandit" Truck Conversion, will be taking the spotlight in the Sprintex USA Booth. In addition to the MOMO Bandit, the fan coined, #SprintexStarwoodJeep, a conversion in collaboration with Sprintex will be featured at the booth. Both feature Starwood Customs Kevlar Liner, the MOMO Bandit in Tuxedo Black and the #SprintexStarwoodJeep in Mercedes Tectite, Sprintex Stage 1 Supercharger System, Sprintex Stage II Superchargers with custom tunes, and AEV Heat Reduction Hood, and more.
"The MOMO Bandit conversion is a project we have worked incredibly hard on. With Jeep hinting at the possibility of releasing a pickup truck, Starwood wanted to showcase their take on what a Jeep truck would look like, tricked out of course," says Scott Wilde, of Starwood Motors.
Demonstrating new manufacturing advances in never-before-seen Jeep wrangler designs, Starwood's custom Jeeps have become iconic both on and off-road across the U.S. and abroad.
Starwood's core philosophy is beautiful design, state-of-the-art-technology, and top-of-the-line performance. Jeeps go through an overhaul including a complete tear down through exterior spray, suspension, leather and lighting upgrades, to engine and audio customizations.
Featured at the 2016 SEMA show this year will be 9 custom Jeeps expertly crafted for Centerline Wheels, Rugged Ridge, American Force Wheels, Nitto Tire USA, VPR 4x4, and Wheel Pros. Attendees and custom truck enthusiasts will be treated to a new line of specialty and off-road truck concepts innovated by Starwood Motors. Starwood Motors will have the following builds featured at this year's SEMA show.

Sprintex - Jeep, Bandit Jeep Conversion
Lund (displaying a Bandit conversion also) - Jeep
Aries Mfg - Jeep (folds of honor), F150
ReadyLift - Jeep, Tundra
Fittipaldi - Jeep
Rugged Ridge - Jeep
Centerline Wheels - Jeep
Nitro Gear & Axle - Jeep
Gear Alloy - F150
Fondmetal - McLaren 650s
All completed builds are made available for purchase online through their website, http://www.starwoodmotors.com. Watch the full length video featuring both cars - http://bit.ly/MOMOBandit
About Starwood Motors
Inspired by a core philosophy of beautiful design, state-of-the-art technology, and top-of-the-line performance, Starwood Motors builds the most sophisticated, rugged and elegant Jeep Wrangler conversions on the road today. Dedicated to excellence and exceptional customer service, Starwood's one-of-a-kind services are offered to buyers all over the world, from Dallas to Dubai.  Learn more about Starwood Motors at http://www.Starwoodmotors.com.