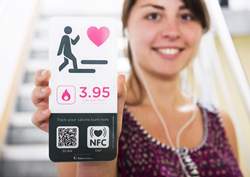 London (PRWEB UK) 7 November 2016
A digital health start-up backed by the Department of Health is set to expand into the US and Asia following a campaign that has seen uptake for the app spread quickly across the globe.
StepJockey was launched in 2014 with a small innovation grant and a brief from NHS officials to "seamlessly encourage physical activity in the urban environment." The app, which allows users to rate the stairs in their buildings for calorie burn and then compete in stair climbing challenges, has struck a chord with sedentary office workers from China to Peru, with over 11,000 staircases now rated in more than 100 countries.
Corporate clients include Lloyds of London, Procter & Gamble, Deutsche Bank, Comcast NBC and the property giants CBRE and Jones Lang LaSalle. Over 79m steps have been recorded between them.
StepJockey projects revenues of over £1m in 2017. Uptake has been driven by time-poor office workers looking for an easy way of building short bursts of exercise into their working day. That and a healthy disdain for claustrophobic corporate lifts and the time wasted waiting for them.
Helen Nuki, the company's founder and a behavioural economist, says women account for 60% of StepJockey users. "Working women want a simple way of keeping fit that doesn't eat into the day or involve parading around in front of colleagues in Lycra. It doesn't hurt that stair climbing is great for your thighs or burns more calories a minute than jogging."
StepJockey is backed by investors including the Sevenex Capital Partners, Rowan Gormely, the Naked Wines founder and several City health and bio-tech investors. From Monday 7 November it will be offering its users the opportunity to buy shares in the company through a limited £500,000 fund round on CrowdCube, the UK's largest crowdfunding platform at a £3.75m valuation. Investments start from £10.
The new investment will be used to expand StepJockey's London operations and sales capacity to meet growing demand from corporates in the US and Asia where, as in the UK, high-rise property development and new healthy building standards are booming.
Corporates are investing increasing sums in wellness to offset the costs and lost productivity associated with sedentary behaviour. A recent study in the Lancet puts the cost to corporates at over £13 billion annually. New building certifications such as the Delos Well Building Standard and the US government backed FitWel, now mandate stair use in health certified buildings.
Claire McDonald, a member of the Department of Health team which originally backed the app, said: "StepJockey appealed to the NHS funding team because it utilised the environment to change behaviour in a way that was achievable to the user. Societies obesity problem didn't arrive overnight and apps like StepJockey which change habits benefit everyone".
Notes for editors
StepJockey's award winning behavioral change programme provides a simple and evidence based mechanism for making multi-storey offices more active and productive.
Its proprietary smart-sign and gamification technology is used by employers worldwide to combat sedentary behavior in the workplace by encouraging stair use. It allows all staff to seamlessly build exercise into their working week without disruption to the business.
The system is used in over 11,000 buildings around the world by clients including Disney, Pearson, JLL, UBS, Channel 4, NBC and The Wellcome Trust.
Backed by the UK Department of Health via Innovate UK and fully compliant with the new international Delos Well Building Standard, StepJockey provides the following key benefits:

Works for the 'whole office', not just the fit/sporty
Non-disruptive, allowing movement to be incorporated into working day
Highly visible, helping to embed a culture of health within offices
Significant time and energy savings in addition to health benefits
How does it work?
StepJockey buildings are equipped with a network of highly salient wireless smart signs that 'nudge' office staff to use the stairs rather than lifts or escalators. The signs can be read by mobile phone applications, allowing stair use to be tracked and further incentivised through the StepJockey gamification platform. The system allows employers to launch team based stair climbing challenges and to directly reward staff who habitually use the stairs.
Sedentary offices – a major global health risk
Sedentary behavior is cited by the World Health Organization (WHO) and others as a leading risk factor for a long term conditions including heart disease, type two diabetes and obesity.
Kills an estimated 5.3m annually – as many as smoking
Office workers at highest risk, with 60%-80% of working day spent sedentary
Rich nations, lead by US and UK, most impacted
Estimated costs, public and private, $58bn worldwide
Health benefits of stair climbing
Stair climbing is recommended by health authorities worldwide as a simple but powerful means to build incidental physical activity into the working week.
Stair climbing is officially classed as a 'vigorous exercise' and burns more calories per minute than jogging
It requires 8-9 times more energy expenditure than sitting and burns about 7 times more calories than taking a lift

The Harvard Alumni Study found that men who average at least eight flights a day enjoy a 33% lower mortality rate than men who are sedentary
For buildings with five floors or less, it's nearly always quicker to take the stairs, with studies finding time savings of up to 15 minutes per person a day.
Just 7 minutes stair climbing a day has been estimated to more than half the risk of a heart attack over 10 years.
Contacts
For more information on StepJockey including requests for images, info-graphics, case studies and expert interviews please don't hesitate to get in touch.
Email: theteam(at)stepjockey(dot)com
Telephone: +44 (0)7770 536 043 or +44 (0)203 397 8377
Website: http://www.stepjockey.com