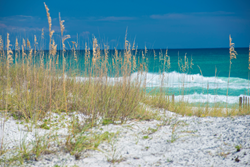 Visitors are never far from an example of why we believe Mother Nature calls Pensacola home.
Pensacola, Fla. (PRWEB) November 03, 2016
Feeling burnt out? Tired? Stressed? There's likely a reason. In 2015 alone, 55 percent of Americans wasted a combined total of 658 million unused vacation days. That's 1.8 million years of vacation time that could have been spent relaxing on Pensacola's sugar-white beaches. Instead, it was forfeited.
According to a study by Project: Time Off, a majority of Americans are not using their hard-earned vacation time. Millennials are the most likely generation to forfeit time off, even though they earn the least amount of vacation days. Our nation's always plugged in, 24/7 work environment has eliminated office boundaries and created a new challenge of making time to take time.
Now is the time. Visit Pensacola invites hardworking Millennials to take time off from work and relax, unplug and reconnect with nature in the Pensacola Bay Area before 2017 arrives.
From pristine beach vistas to unspoiled marshlands to serene coastal woodlands, Pensacola boasts a wealth of parks and trails that highlight the natural beauty of our environment. Visitors are never far from an example of why we believe Mother Nature calls Pensacola home.
Gulf Islands National Seashore
USA Today recently affirmed what folks in Pensacola always knew: The Gulf Islands National Seashore is the best beach around. The news site's readers named Gulf Islands not only the best beach in Florida, but also the best beach in the eastern United States.
It's easy to see why.
Perhaps the key to Gulf Islands' appeal is its unspoiled simplicity. As its name suggests, much of the park is located on islands – Santa Rosa Island and Perdido Key – giving the park the feeling of isolation and distance many beachgoers crave.
Three of the park's sections in Pensacola – the Santa Rosa Area on the east side of Pensacola Beach, Fort Pickens on the western edge of Pensacola Beach and Johnson Beach on Perdido Key – feature miles of rolling white sand dunes, sea oats and endless horizon. Visitors are more likely to encounter a dolphin, sea turtle or osprey than neon lights, amplified music or a billboard.
To learn about the sea life, plant life, birds and butterflies you see along the island, check out the Footprints in the Sand Eco Trail along Pensacola Beach. The trail features about 30 informative, educational signs stationed across the island, each one exploring a different ecological topic.
The Santa Rosa Area and Johnson Beach offer daytime access to the beach. Johnson Beach also offers primitive overnight camping.
Fort Pickens includes the historic military installation, built in 1829 as part of the fort system to protect Pensacola. It offers guided tours, a museum, a snack bar, camping and more.
Picturesque Perdido
Along with Johnson Beach, Perdido Key and the southwest corner of Escambia County offer hidden gems of natural beauty at several parks.
Big Lagoon State Park features an amphitheater, fishing, wildlife, swimming and more to take in. It's a favorite location for outdoor weddings. It also serves as a prime location for crabbing.
Tarkiln Bayou Preserve State Park, located on Perdido Bay, offers the unique environment that is home to four rare, carnivorous pitcher plant species, all of which may be viewed from an elevated boardwalk. The park offers a 6.5-mile Perdido Bay trail as well as the 1.5-mile Tarkiln Bayou Trail that is wheelchair accessible.
Perdido Key State Park — located on the island itself — also offers undisturbed access to both the Gulf of Mexico and Old River. It provides picnic facilities, fishing opportunities and more.
Beauty of Pensacola
On Escambia Bay, Bay Bluffs Park features a network of wooden boardwalks and trails that descend from the aptly named Scenic Highway to the shoreline below.
On the north side of Pensacola, the University of West Florida offers a variety of woodland and wetland trails, including the Edward Ball Nature Trail, which includes a half-mile of boardwalk on Thompson Bayou, a beautiful hardwoods swamp. Just off the boardwalk lies a web of bike paths. The campus also offers more than 20 hidden-treasure "geocaching" sites.
Jones Swamp Wetland Preserve and Nature Trail was created to provide protection for Pensacola Bay. The preserve includes 1,300 acres within the Jones Creek Watershed. The trail is located along Jones Creek and includes 3,100 linear feet of elevated boardwalk with two spanned pedestrian crossings over the creek and two connections to the Pensacola State College Warrington Campus.
Lastly, the Explore Pensacola GeoTour is comprised of four different trails – Western Gate Trail, Historic Pensacola Trail, Cultural Trail and Coastal Trail. Have fun exploring Pensacola's award-winning beaches, discovering its history and becoming immersed in our culture on this fun outdoor adventure.
What are you waiting for? The best way to recharge is to unplug, so make the time to explore the natural wonders of the Pensacola Bay Area.
##
About Visit Pensacola
Visit Pensacola leads the effort of economic development through tourism in Escambia County. Comprised of over 200-member businesses, Visit Pensacola's mission is to position the Pensacola Bay Area as a premier year-round travel destination through tourism marketing, communications, meetings and conventions, reunions and group tour initiatives. For more information about Visit Pensacola, call 1-800-874-1234 (toll-free) or go to VisitPensacola.com.
###