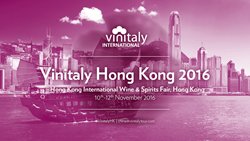 For the first time, we are bringing our engaging business platform to Asia. Wine2wine is dedicated entirely to sharing ideas, trends and personal experiences in the wine business
Hong Kong (PRWEB) November 04, 2016
Boosted by last year's winning combination of 135 producers, a record 1,500 square meter dedicated area, 18 masterclasses and VIA (Vinitaly International Academy) seminars, Vinitaly Hong Kong returns to Asia's leading commercial hub with an even more ambitious program which aims to offer a more valuable B2B experience to the 30.000 buyers and visitors.
A rich, informative program has been prepared for the Italian Pavilion this year, to complement and enhance the traditional Walk Around Tastings, where all attendees will have the opportunity to browse and taste the wines presented by more than 85 exhibitors.
A much anticipated new addition to Vinitaly Hong Kong is wine2wine Asia, the pocket version of the annual wine business forum held in Verona, which last year boasted a turnout of 100+ speakers and 2000+ attendees over two days of seminars, discussions and knowledge sharing. "For the first time, we are bringing our engaging business platform to Asia. Wine2wine is dedicated entirely to sharing ideas, trends and personal experiences in the wine business", explains Stevie Kim, Managing Director of Vinitaly International. "The intent is to exploit possibilities to penetrate the Chinese wine market, with a special eye to eCommerce platforms, local social media advertising, but also useful technical discussions like how to set up a store and to find the best importers in secondary Chinese cities. This is a great opportunity for B2B professionals to get know-how direct from the local experts".
Wine2wine has been tailored to Asia with a special format, the Speaker's Bureau. Every morning, local and international experts will lead thought provoking seminars to be held before trade show opening hours. The topics are: "The aftermath of 9/9: is e-commerce the future of wine business in China?" on Thursday, November 10th; "The role of wine education in China" on Friday, November 11th; "ABC to wine trade in China" on the final day, Saturday November 12th. Each seminar will be followed by an Italian breakfast in the Lounge area, the perfect setting to share thoughts while enjoying Italian delicacies (For more information and to register to the event visit asia.wine2wine.net).
A quintessential part of Vinitaly Hong Kong revolves around wine education. Vinitaly International Academy, VIA, an educational initiative aimed at simplifying the vast diversity of Italian grape varieties will be in Hong Kong with 4 VIA Executive Wine Seminars, presented by Scientific Director, Ian D'Agata. A new record will be set this year with 21 educational masterclasses, an impressive 15 of them organised by Jean Charles Viens, Hong Kong-based wine expert and educator, writer at "Spirito Divino Asia". Local impressions in Hong Kong towards Made in Italy easily bring to mind elegant lifestyle, luxury brands, and fine food. During the guided tastings, JC Viens will bring participants in-depth and behind-the-scenes on what creates the Made in Italy aura in Italian fine wines, and how they can become a key market player in this region.
You can register to the masterclasses by following these links:
Day one (10th November): https://vinitaly-hong-kong-2016-masterclasses-1.eventbrite.it/
Day two (11th November): https://vinitaly-hong-kong-2016-masterclasses-2.eventbrite.it/
Day three (12th November): https://vinitaly-hong-kong-2016-masterclasses-3.eventbrite.it/
During this seventh edition, Wine Meridian, the pioneer online magazine devoted to Italian wine in international markets, will hold the first Hire Me Vinitaly during Vinitaly Hong Kong. The new speed-dating format aims to bridge the gap between local Italian wineries and local wine professionals seeking for employment within the Asian market.
This year's edition will also count a new wine bar where each day sommeliers will be serving a selections of top quality Italian wines including 11 of the wines that won the exclusive 5StarWines Award held this year a few days before Vinitaly in Verona. Last year's competition saw the participation of 2,700 wines from 27 countries, of which, only 350 passed the stringent 90 point minimum required to receive the 5StarWine Award. Enrolment is now open for the 2nd edition of the Award (March 31st to April 2nd 2017) where further qualification of the panel of judges will ensure that participating wine-makers will benefit from expert assessments and first-hand knowledge of each type of wine.
For more information and to apply visit: http://www.vinitaly.com/en/exhibitor-area/vinitaly-international-competitions/5-Star-Wines/).
As for the previous editions, every day the Vinitaly Lounge will offer all attendees the opportunity to sip good Italian coffee or taste Italian food thanks to Vinitaly International's partnership with Tutto Food which will presenting quality products from some of Italy's top brands: Fabbri, Auchan, Corsini and Ferrarini.
Vinitaly International would also like to thank Technical Partners, Franklin and Marshall, Wine Meridian, Grande Passione and Bellissima Italia as well as Media Partners, Vinehoo, Spirito di Vino Asia, Wine Chat, Winesinfo.com for their invaluable support.
About:
Veronafiere is the leading organizer of trade shows in Italy including Vinitaly (http://www.vinitaly.com), the largest wine and spirits fair in the world. During its 49th edition Vinitaly counted some 4.000 exhibitors on a 100.000 square meter area and 150.000 visitors including more than 2.600 journalists from 46 different countries. The next edition of the fair will take place on 10 - 13 April 2016.
The premier event to Vinitaly, OperaWine (http://www.vinitalyinternational.com) "Finest Italian Wines: 100 Great Producers," will unite international wine professionals on April 9th in the heart of Verona, offering them the unique opportunity to discover and taste the wines of the 100 Best Italian Producers, as selected by Wine Spectator. Since 1998 Vinitaly International travels to several countries such as Russia, China, USA and Hong Kong thanks to its strategic arm abroad, Vinitaly International. In February 2014 Vinitaly International launched an educational project, the Vinitaly International Academy (VIA) with the aim of divulging and broadcasting the excellence and diversity of Italian wine around the globe. VIA has now also created its very first Certification Course with the aim of creating new Ambassadors of Italian Wine in the World.